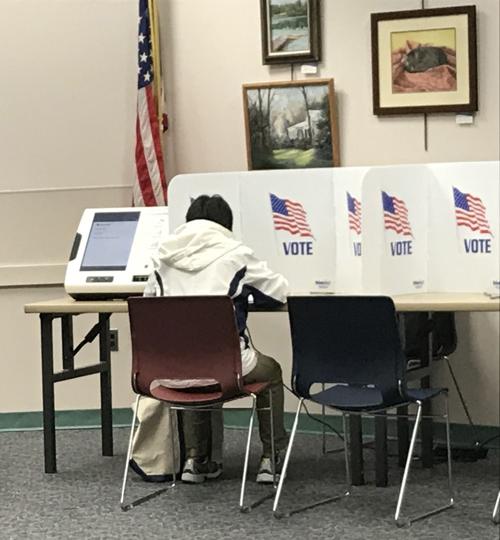 With 2020 voting now in full swing, state and local election officials are confident in the security and integrity of voting equipment.
"Virginians should feel confident that their votes will be counted accurately," according to a recent news release from the Virginia Department of Elections.
Unsecure voting systems have been removed from service as localities transition to modern systems using voter verified paper-based balloting. Furthermore, equipment voters use to cast their ballots in Virginia is not connected to the internet, the statement said.
The state is aware of security concerns related to elections and voting systems, Virginia Department of Elections Commissioner Christopher Piper said in a prepared statement.
"As election officials, it is important for us to make sure that voters know their votes will be counted and their voices are heard," he said.
The department has worked with voting equipment vendors to ensure all voting systems meet new cybersecurity standards prior to the general election in November. System vulnerability tests are ongoing, as is the work to protect the state's elections from cybercrime, the release stated. Training on the topic continues, with more than 400 election officials attending one especially successful session.
In addition, the department has increased its staff to update and maintain compliance materials for elections, while staff also receives ongoing security training and resources from the Department of Homeland Security and FBI.
"Training is a top priority at the Virginia Department of Elections," Piper said.
The department encourages voters to help with election integrity by checking registration status to ensure the correct polling place; reviewing the ballot before casting it and using trusted sources like state and county agencies to get election information.
Election officials working the polls take an oath to uphold state voting laws. Party officials and members of the public often monitor the process at the polls on Election Day.
Culpeper County Registrar James Clements said his office, like the state, is committed to voting security.
"Ensuring the integrity of our elections has always been and will continue to be a top priority for election officials across the commonwealth," he said. "Election integrity is built into everything we do, from the training of our hard-working election officers, to the testing and certification of the voting equipment, to the little details like ensuring every precinct has enough ballpoint pens for Election Day."
The Culpeper County Electoral Board joined the county's equipment technician Friday afternoon to conduct the final logistics and accuracy tests of voting equipment prior to Tuesday's primary election. Culpeper County voting equipment is not connected to the internet in anyway, Clements said.
In Culpeper County, voters select candidates using a pen and a paper ballot that is then fed into a DS200 Precinct Scanner and Tabulator machine that counts and records each vote. Each of the units goes through an annual maintenance program. The State Board of Elections certifies and approves the paper ballots prior to opening the early voting period and opening the polls on Election Day.
The DS200 uses physical and system access controls including lockable doors, tamper-evident seals and access codes, according to machine manufacturer, Omaha, Neb.-based Election Systems & Software.
"These security safeguards cannot be bypassed or deactivated and alert election officials of unauthorized access while the unit is in storage, transport, preparation and operation," according to the company.
The DS200 generates a printable, detailed audit log of all actions and events that have occurred on the unit. Every action and event, including access attempts, access of system functions and errors, is logged and timestamped.