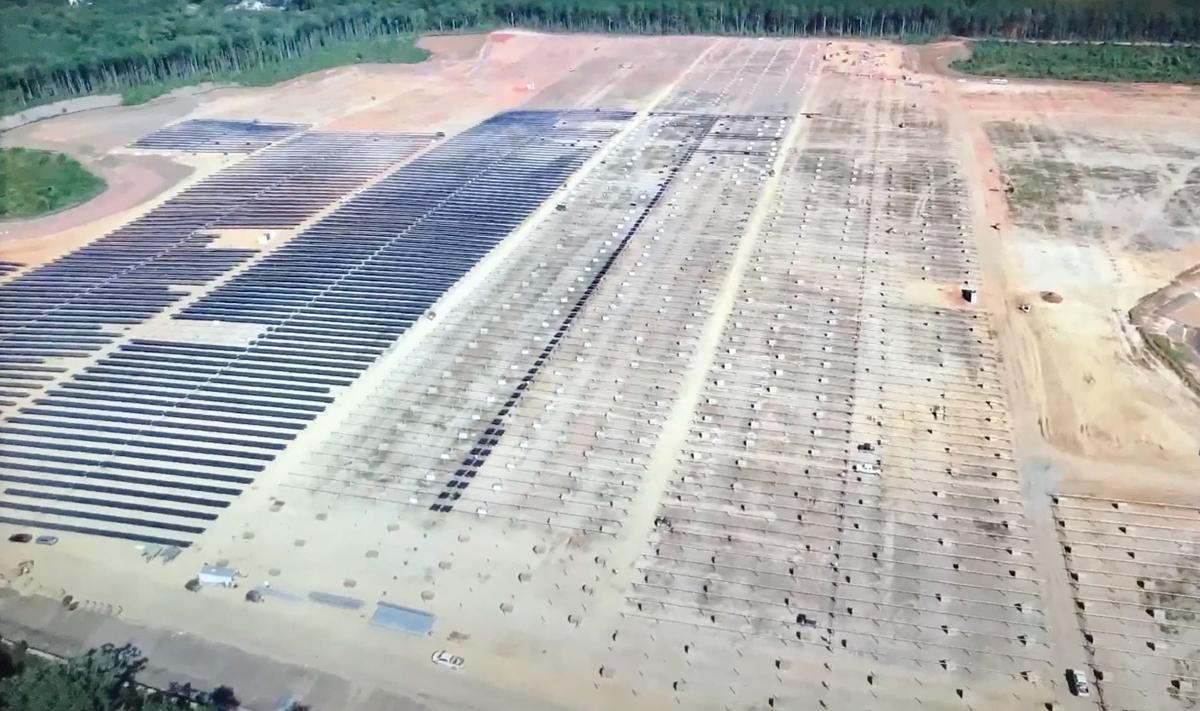 In Sunday's Star-Exponent, Maroon Solar tried to make the case for its industrial-scale solar power plant on Racoon Ford Road in Culpeper's Stevensburg District. For two-plus years, people in Culpeper and across the country have been fighting to protect historic agricultural land from such plants.
Last week, the Board of Supervisors agreed to work on a solar ordinance to codify its existing policy, which limits solar projects to 300 acres. That process has just started, and it would be irresponsible to approve Maroon and set a precedent. At 1,700 acres, Maroon's proposed site is too big. Until Culpeper adopts a solar ordinance, it shouldn't approve any industrial-scale power plants.
Maroon claims its development won't impact historic sites. But its tract lies within the Rapidan Front area being studied by Culpeper's Friends of Cedar Mountain Battlefield under a grant from the Interior Department's American Battlefield Protection Program. The research's goal is to document the historic resources of the hamlet of Rapidan; the Civil War's Racoon Ford, Morton's Ford and Somerville Ford battlefields; and the Union army's 1863-64 Winter Encampment.
If Culpeper approves Maroon Solar, the loss in landscape integrity would render much of the Rapidan Front no longer eligible for the National Register of Historic Places and jeopardize the area from being recognized as of national historical significance. The friends' group's research will be completed next year. Until then, no industrial-scale solar projects in the study area should be approved.
Culpeper was instrumental to the American Civil War, and its historic sites should be preserved.
Maroon claims that solar is one of today's lowest-cost sources of energy. But solar is intermittent and unreliable, so companies rely on reliable fossil fuels and nuclear and hydro energy. Depending on sunshine's intensity, solar panels produce either too much or too little electricity for the needs of the grid, which must be maintained in constant balance between supply and demand. Solar doesn't replace the cost of fossil fuels; it adds to their cost. More solar = higher prices.
Maroon claims there is a lot of interest from data-center companies that want renewable energy. The truth is that Big Tech uses mostly non-renewable energy, and it buys Renewable Energy Certificates so companies can claim to be powered 100% by renewables. Yet companies are still connected to electric grids that use fossil fuels because they need reliable energy all the time. Only a fraction of each company's energy comes directly from solar or wind installations.
This year, a Greenpeace report accused Amazon of abandoning its commitment to 100% renewables, noting that some of its largest data centers are powered by only 12% renewable energy.
Big Tech companies and data centers in Northern Virginia want to pollute rural land in Culpeper and other small communities without investing in rooftop solar on their own commercial buildings. Why should Culpeper be the solar sewer instead of Northern Virginia, where these companies are concentrated?
Maroon claims its power plant will improve the site, which will look better covered in solar panels. Much of the land targeted for destruction has been timbered and should be replanted as forest. Not allowing it to be replanted would be counterproductive. In 2019, the UN Intergovernmental Panel on Climate Change found that deforestation contributes to climate change. Trees benefit the environment by removing carbon dioxide from the atmosphere. Replacing forests with a thousand acres of glass panels is not "green."
Because Maroon is near wetlands, streams and tributaries—including Summerduck Run—that feed into the Rapidan and Rappahannock rivers and the Chesapeake Bay, its impact on the environment and residents' groundwater could be devastating. The clear-cutting of trees and blackjack soil already cause flooding problems, which this massive construction project would exacerbate.
A careful examination of the facts should give Culpeper County officials a healthy amount of skepticism toward Maroon's claims. The destruction of historic rural land isn't worth it. Maroon says its project will be a "temporary construction inconvenience" with "no permanent impact." But once the land is gone, it is gone forever.
Culpeper County resident Susan Ralston is president of Citizens for Responsible Solar. The 501©4 group advocates responsible policies that balance demand for renewable energy with the interests of Culpeper and its people.
Catch the latest in Opinion
Get opinion pieces, letters and editorials sent directly to your inbox weekly!