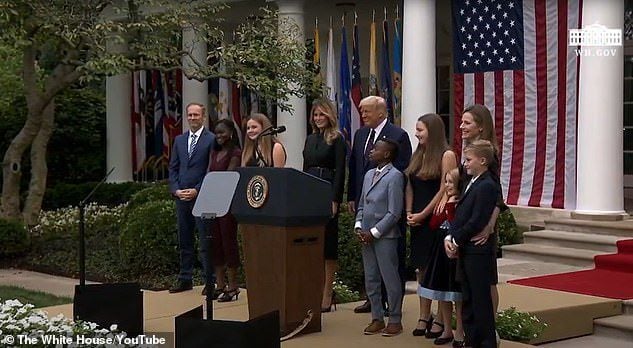 On Monday, I did something unheard for a full-time working woman and mother of four: I gave up precious hours of sleep to rise with my daughters before the crack of dawn and join a bus full of other Richmond moms and their daughters on the way to D.C.—just to show Judge Amy Coney Barrett our support for her nomination.
Why did we do this? Because her nomination is a significant win for moms and daughters across America. If confirmed, Judge Barrett would be the only mother seated on the U.S. Supreme Court—and the first ever mother of school-aged children to serve as a high court justice.
She's breaking new kinds of barriers for women.
Most by now know her story. She had a prestigious career as an attorney before becoming a law professor at Notre Dame University, where she was "distinguished professor of the year" three times. In 2017, she was confirmed to the U.S. Court of Appeals for the Seventh Circuit.
She's been married to the same man for nearly two decades. They have seven children—two of them adopted. One of her children, the youngest, was born with Down Syndrome.
For many American women like me who see Judge Barrett not as a cultural savior, but as an extraordinarily successful public figure who is also a wife and mother, the personal attacks on her life choices—by those who claim the mantle of modern-day "feminists"—are alarming.
As the aunt of an adopted, Haitian-born niece, attacks on her adoption hit close to home for me. And as a mom of four kids who always has a lot on my plate, the notion that a certain number of children disqualify one from certain sectors of society is disheartening.
Judge Barrett's been told that the "dogma lives loudly within you," referring to her faith. For millions of women who believe in God and attend worship services, her actions reflect everyday attempts to align one's daily life with one's beliefs.
Some speculate that the vicious attacks against her family and faith are simply rooted in the fear that ACB could end the idol of Roe v. Wade by her judicial opinion. But I believe it's much bigger than that.
The reality is that even if—and it's a big, big if—Roe were reversed, abortion would remain legal in most, and perhaps all states. Reversing the policy impact of Roe would happen through a longer legislative process, not by immediate, judicial fiat.
Abortion will only truly end in our nation when women stop believing the lie that a child, rather than bringing them unending blessings and joy, will end their path to achievement and financial success.
Abortion ends when women start believing that a child entering the world as a result of heartbreaking circumstances is a beautiful phoenix rising from the ashes, not a curse exacted on them.
Abortion stops when a non-perfect, in-utero diagnosis is no longer believed to be a ticket to a life of pain and agony, but an opportunity to help our society learn to love those who are unlike ourselves.
Over a million lives a year are spared when, even if a pregnant girl is unprepared to parent, adoption becomes the wonderful option that allows her unborn child's life to continue.
Perhaps the personal attacks come because ACB's life itself is far more of a threat to a radical, wrong-headed idea of "feminism" than overturning Roe v. Wade is. You see, Judge Barrett proves that narrative is wrong: Women don't have to sacrifice their children on the altar of abortion in order to have successful careers.
She has risen to the pinnacle of her profession while still being able to prioritize her family. She defies the lie that those who don't support abortion hypocritically don't wholeheartedly support adoption. Her family's embrace of a Down Syndrome child shows that, even when given a hard diagnosis, they chose life.
Amy Coney Barrett's life and the choices she made can't help but undermine the main lies of the abortion industry. She has demonstrated the strength and blessing, rather than the supposed harms, of marriage and family.
Her elevation to the highest court in the land would begin to dismantle those myths and rebuild a balanced sense of feminism, one that empowers women with the message that they can be anything they want to be, including a wife and a mother.
True feminists celebrate ACB because she breaks the glass ceiling even further. Her example inspires women with more options, not less.
Victoria Cobb is president
of the Richmond-based
Family Foundation of Virginia.
Catch the latest in Opinion
Get opinion pieces, letters and editorials sent directly to your inbox weekly!