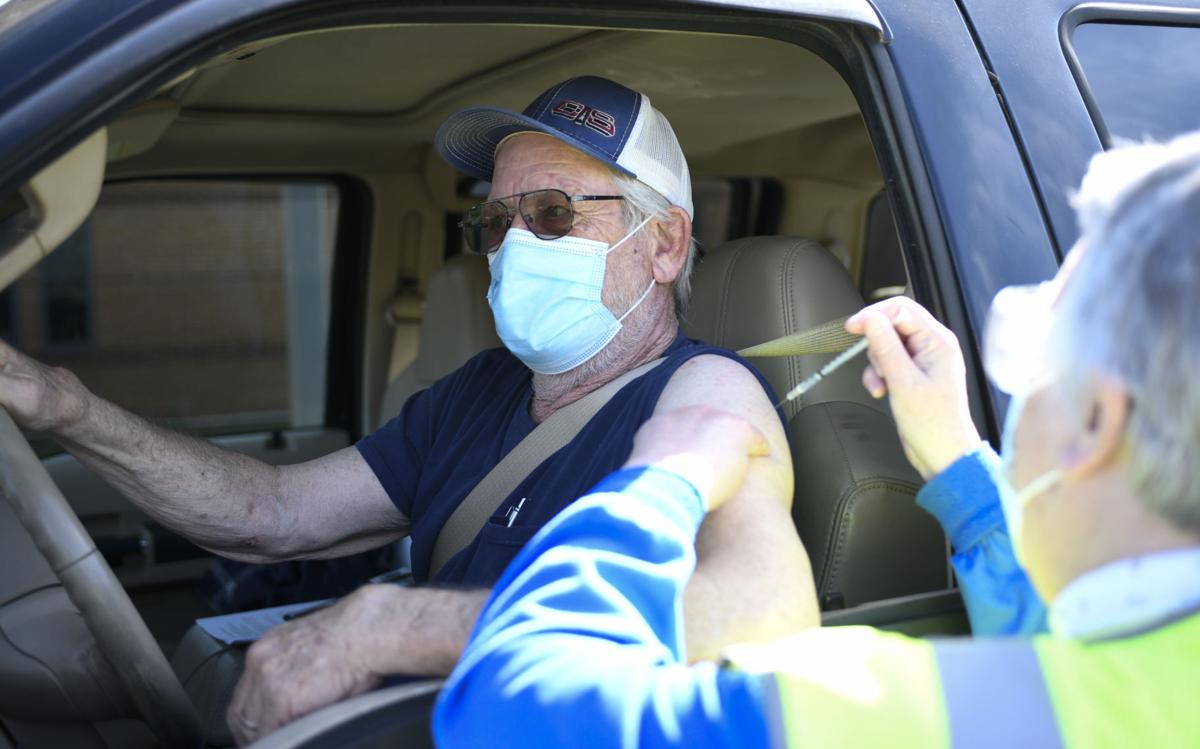 Sunday marked the 245th anniversary of the adoption of the Declaration of Independence, by which our founders formally threw off a distant monarchy and established a new nation.
Today is also the date that the modern-day successor to those founders—President Joe Biden—set as a different sort of independence day, our independence from the COVID-19 virus that immobilized much of the nation and, indeed, much of the world for more than a year.
So, how are we doing on that score? That answer to that involves a mix of politics and science, always a troublesome brew.
Biden set a goal of 70% of adult Americans getting at least one dose of the vaccine by July 4th. As of Friday, the figure stood at 66.7%.
In Virginia, Albemarle County and the city of Fairfax were the first to hit that threshold—a fellow named Thomas Jefferson would surely be pleased. They're now both past the 80% mark. Most localities in Northern Virginia now stand well north of 70%. So do some that aren't in Northern Virginia—among them Republican-voting localities such as Roanoke County, Lancaster County and Goochland County, all of which put the lie to the argument that the vaccine divide is a partisan one. Nor is it purely an urban/rural divide, either, because some rural localities—Republican-voting rural localities—are posting numbers in the 70%-plus range.
Nevertheless, the least-vaccinated localities have consistently been in Southwest and Southside Virginia. We're asked before why vaccination rates aren't higher. Isn't getting vaccinated essentially a patriotic act—a way to get the country back to normal after being invaded by some foreign enemy? Our forebears all worked together to fight for our independence in 1776, right? So why aren't we now?
Actually, that's a misconception. Americans were just as divided then as we are now. The fact that we don't immediately realize that is an indication of the old adage about how history is written by the winners (except in the South after the Civil War, where history got written by the losers). University of Rochester historian Thomas Slaughter is the author of "Independence: The Tangled Roots of the American Revolution." He estimates that "at no time did more than 45% of colonists support the war, and at least a third of colonists fought for the British." That figure is in line with what other historians have come up with. If those figures are right—the Gallup Poll didn't exist back then—that means there were also a lot of Americans who didn't take a side at all.
Some allegiances were rather malleable. Slaughter's research, for instance, found that "at one inn along a well-traveled road in New Jersey—what is today U.S. 1—the innkeeper would send a servant out to look down the road every morning and throughout the day. If an army was spotted, the servant was charged with identifying the colors and raising the corresponding flag to keep soldiers from burning down the inn."
One measure of how many Americans didn't support the revolution is how many left after the war. By all accounts, most Loyalists (as they were known because they stayed loyal to the crown) stayed. But some 60,000 to 100,000 packed up and left—mostly to the North American colonies that had declined to join the revolution, aka, modern-day Canada. (In that sense, Canadians were the original anti-Americans.) About 12,000—a mix of whites and free Blacks—went to Britain. Meanwhile, about 5,000 white colonists decamped to Florida—then a Spanish possession—and took their 1,500 enslaved laborers with them. We eventually caught up with them, but that's a different story.
Our histories don't say much about these Loyalists—traitors, in our telling, if we tell about them at all. Others see them quite differently. In Hamilton, Ontario, there's a massive (three and a half tons) statue of a refugee family—refugees from the American Revolution. The parents look fearfully, hopefully toward their new land, while their children cling to them. The inscription reads in part: "Neither confiscation of their property, the pitiless persecution of their kinsmen in revolt, nor the galling chains of imprisonment could break their spirits or divorce them from a loyalty almost without parallel." That's not quite the story you'll hear Independence Day speakers today relate but it is, as Paul Harvey liked the say, the rest of the story.
Our point today is not to glorify those Loyalists—for the record, we're on the side of independence—but to underscore that we've never been particularly united and there have always been among us those who were sympathetic to the other side. And that's maybe the best way to understand why so many Americans today have yet to be vaccinated. Whether they realize it or not, they're essentially on the side of the enemy—the virus—the same way that American Loyalists were on the side of King George.
Here, alas, is where our analogy runs out. Most American Loyalists stayed around after the Revolution and benefited from the liberties that they had opposed. Maybe the unvaccinated think they will benefit from their neighbors getting vaccinated. To some extent, they're right. Things are already reopening as infection rates fall and vaccination rates rise—even if we're not yet at that 70% goal. But here's where they're wrong: The virus won't go away. It will always be there in the background. And those who aren't vaccinated will be the ones to catch it. More worringly, they will become reservoirs for breeding "variants" of the virus—variants that may break through the antibody defenses of those who have been vaccinated. The unvaccinated aren't simply endangering themselves, they're endangering everybody else—even the vaccinated. And because the unvaccinated tend to be clustered—as we've seen, some localities are woefully undervaccinated—those communities will likely be the ones that see outbreaks.
Some—such as Mississippi Gov. Tate Reeves—have complained that the 70% goal is "arbitrary." He's right. It is. This is a new virus. We don't know what figure is necessary for so-called "herd immunity." The World Health Organization says that 95% have to be vaccinated to break the chain of transmission for measles. For polio, the figure is about 80%. The 70% figure for COVID-19 is actually a low-ball guess.
This may not be the most uplifting Fourth of July message possible, but nobody said that independence was going to be easy. Ever since the vaccines were introduced, Great Britain has consistently had a higher vaccination rate than we have. On this Fourth of July, let's not let them beat us.