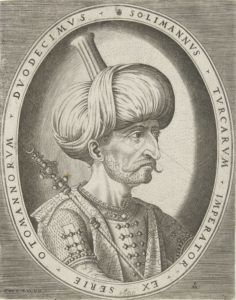 IN 2011, Turkish television launched a new series, entitled "Magnificent Century / Mühteşim Yüzyıl." An instant hit, this flashy soap opera offered a highly dramatized version of Sultan Süleyman's palace personna, family drama, and harem dynamics.
Over four seasons this bodice ripper, centered largely on the rivalry between his wife, Hürrem, and his earlier prime concubine, Mahidevran, was screened by over 200 million viewers in over 50 countries.
Why were so many hooked on a fanciful dramatization of this celebrated sultan who died over 450 years ago?
The real Süleyman (d. 1566) ruled over the Ottoman Empire during what most consider the peak of its power. Even though the empire continued to expand for several decades after his death, and remained the most powerful force in Europe for well over another century, when denizens of Western civilization consider this empire at all, it is usually in the same breath as they contemplate the reign of its most famous ruler.
As with Elvis, there remains a clear divide in the popular imagination between the young and dynamic conqueror who sieged Vienna, and the older, wiser ruler who concentrated on legacy issues in later years.
Initially inheriting a somewhat shaky legitimacy, the young Sultan moved aggressively to stabilize his position by crushing rebellious governors in newly conquered Egypt and Syria, as well as capturing Rhodes, thereby significantly expanding the reach of Ottoman rule.
Aided by several powerful ministers, the Ottomans drew up plans to dig a Suez Canal, and finished several miles of an aborted canal linking the Don and Volga Rivers (and thus the Caspian and Black Seas), both projects that would need to await the 19th and 20th centuries for eventual completion.
Twenty years into his reign, the aging ruler strived for universal legitimacy, increasingly searched for diplomatic solutions, and fretted over succession intrigues. As patriarch of his dysfunctional family Ottoman, by the middle of the century the issue of who would follow Suleyman began to take center stage.
As is often the case, the answer to the succession riddle lay with the female power behind the male. As dramatized in Magnificent Century, the young Süleyman had fallen head over heels in love with the beguiling, savvy, and fiery Hürrem (d. 1558), a Ukrainian harem concubine who came to wield more power behind the Ottoman throne than far more famous queens held while sitting on actual thrones.
Known as "Roxelana" in the West, she bore several children with the sultan, which broke several harem norms of the era.
When the end came, it was not without drama. One day, while on campaign in Hungary, Süleyman suddenly fell ill and died. Fearing a Janissary rebellion if news got out, Grand Vizier Mehmed Paşa Sokolović famously told the army that their sultan was indisposed, and when rumors started spreading, propped the deceased sultan up against his tent flaps and had servants wave his arms at the troops.
The ruse worked, giving the next ruler, Selim II, enough time to catch up with the army and announce his own succession.
Although Suleyman's harem intrigue, family tragedies, and enduring popularity are today the subject of an international hit serial, more serious historical considerations focus on public interpretations of his legacy than on his private demons.
Dr. Nabil Al-Tikriti is associate professor of history at the University of Mary Washington. His talk on Süleyman the Magnificent will take place on Tuesday Jan. 26, at 7:30 pm on Zoom, as part of UMW's "Great Lives" series. It can be accessed at umw.edu/greatlives.