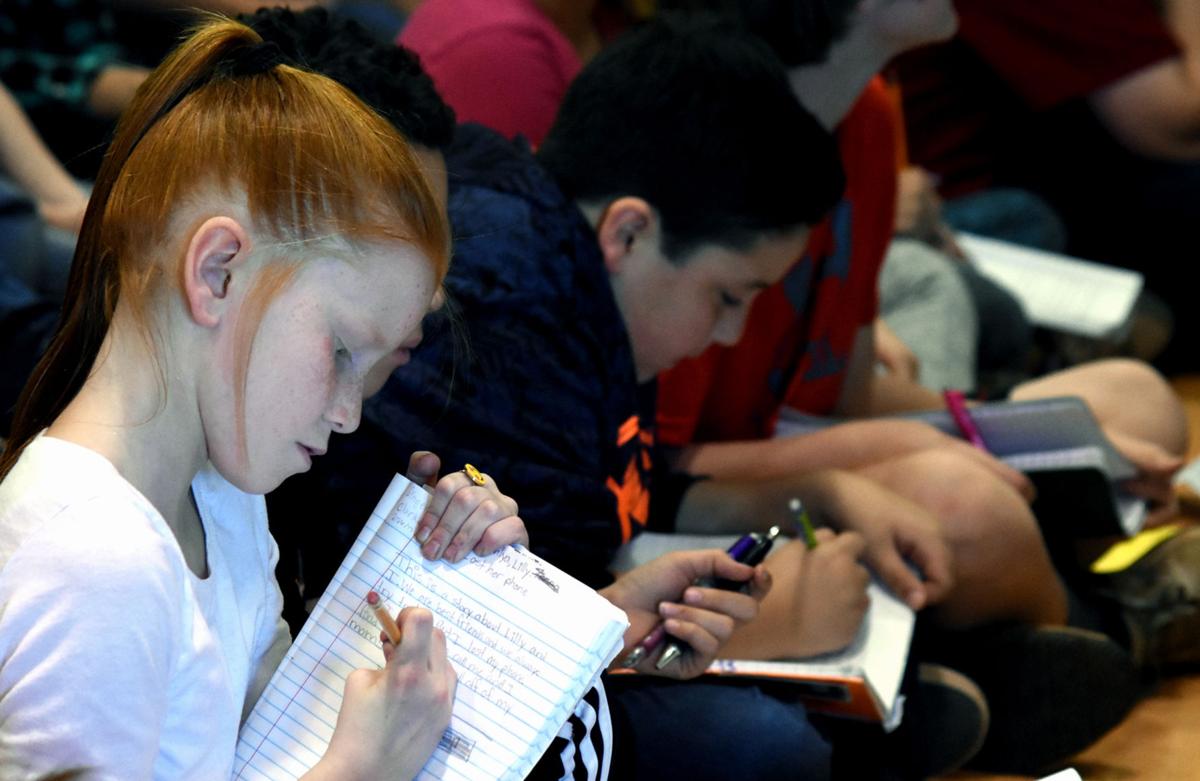 We all know the old saying that schools should teach "reading, writing and arithmetic." Certainly, our schools must teach much more than that today. We've had an intense focus on reading and math for years. Having students read on their grade level is a constant goal. But the focus on writing is often limited due to additional requirements.
Students are introduced to computers as soon as they enter school, but students still need to know how to write. They learn keyboarding. While cursive writing is part of Virginia's Standands of Learning, students are encouraged to use computers instead of writing by hand as they progress through school. In many places, students basically remember how to write their names and not much more. A delivery person recently told me that a young man in his 20s couldn't sign his name for delivery confirmation. He had to sign with an "X." If a skill is not used, it's lost.
Students also need to learn how to compose their writing. Students struggle less in literacy if they are taught writing strategies, planning and organization at a young age. Writing should be used across the curriculum. When I was in college, the emphasis was on reading across the curriculum, but writing is equally, if not more, important. Requiring students to recall information and apply it to different situations through writing reveals if there are gaps in their understanding the material.
Having students compose answers rather than answering multiple-choice questions reveals a deeper understanding of the subject. It makes them evaluate different ideas, decide on their importance, and in what order they should be presented. Students are more likely to synthesize information and make connections between concepts. Writing for a particular audience helps students to think about another point of view and helps them to be more objective.
Writing increases memory and is more active than reading or highlighting important ideas in a text. Students tend to remember material better if they actively engage in taking notes. Writing actually makes more confident and effective readers.
In business, writing is critical to success. It's required in almost every profession. Strong communication is what keeps the world moving forward. Before someone can speak well, they need to collect and organize their thoughts. Presentations are more cohesive if ideas are first prepared in writing. While spellcheck is a helpful tool, it doesn't catch everything. A recent study showed that managers found college graduates lack writing proficiency. A poorly written proposal filled with errors can lose a potential client.
Creative writing engages both sides of the brain. The right brain comes up with the ideas, and the left brain helps organize them. Creative writing is more than simply examining a text, it is presenting new ideas. Focusing only on reading creates consumers. Good creative-writing skills help create producers. Creative writing enhances critical thinking and problem-solving skills, and improves vocabulary. Words matter. Being able to share your ideas clearly and concisely avoids confusion.
I've worked with students in Culpeper's E-Squared program. Wording a business plan so that investors understand and see the potential of their product is critical. I have served on college scholarship committees for different organizations. It's disappointing to read error-filled, rambling, unfocused essays by graduating seniors. The inability of some of these students to clearly convey their thoughts invariably removes them from consideration.
With talk of re-examining and perhaps restructuring our school program, we must get away from standardizing education. We have the opportunity to adjust instruction to truly meet the needs of students and focus on the basics to provide them with a solid foundation for the future.
A Culpeper resident,
Elizabeth Hutchins is a former educator. She served 16 years
on the county School Board.