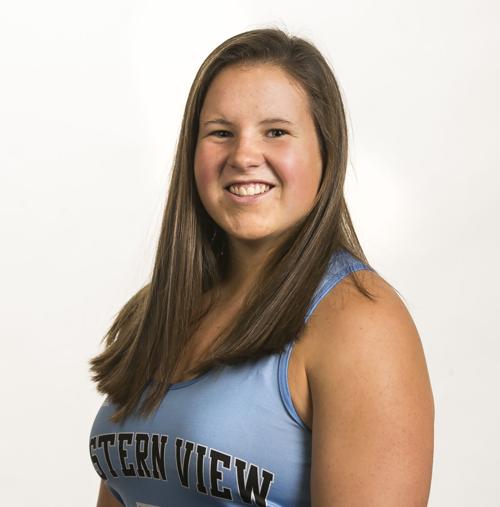 Try as she may, Sarah Hatfield just couldn't get comfortable during her freshman year at VCU.
The 2020 Eastern View High School graduate committed to play field hockey for the Rams in February 2019 and inked a National Letter of Intent with them a year later, making her the first field hockey player in Cyclones' history to sign with a Division I program.
But while her first collegiate season was delayed from fall 2020 to spring 2021 due to COVID-19, Hatfield had plenty of time to get a feel for campus life at the Richmond school. And something never felt quite right to her.
Hatfield hung around for the spring campaign, seeing action in two games for the 9-1 Rams. But after VCU's season ended with a 2-1 loss to Bucknell in the opening round of the NCAA tournament on April 30, she made the decision to transfer to Towson (Md.) University.
Hatfield's career as a student-athlete came full circle last Sunday, when she scored her first collegiate goal in the Tigers' 2-1 victory over William & Mary.
"It was very exciting," Hatfield said when reached by phone Tuesday night. "I am very happy with the group of girls I got to share that moment with."
Hatfield's tally helped Towson (3-10 overall, 1-3 conference) earn its first win in Colonial Athletic Association play, which is something she said she's very proud of.
"Our team goal for the season is to finish in the top four in the CAA," she said. "So to be able to help our team get its first CAA win is very special to me."
Hatfield said the urban backdrop of VCU's campus played a major role in her decision to transfer.
"I just never really felt at home at VCU, being right in the city and not having much of a campus feel," she said. "Towson is a much better fit for me and I'm really enjoying it here. The campus is beautiful and it reminds me a lot of home."
Given Hatfield's track record, it's hard to imagine her not building off of Sunday's performance, especially if she's feeling at home. And that could be very bad news for the Tigers' upcoming opponents.
A three-time Class 4 all-state selection, Hatfield scored a school-record 136 goals during her time at Eastern View, which ranks second all-time in Virginia High School League history and 10th nationally. In addition, her school-record 69 career assists narrowly missed landing her in the national top 10 in that category as well.
Perhaps most famously, Hatfield scored the game-winner in the Cyclones' 3-2 overtime victory over Great Bridge in the 2019 state championship game. It was the third consecutive year that she led EVHS to the title game, though the Cyclones suffered heartbreaking losses to Great Bridge and Chancellor in 2017 and 2018, respectively.
"We have a special group of girls here that I think is going to do big things," Hatfield said of her Towson teammates. "Everyone brings something to the table, and I can't wait to see what we can accomplish together."