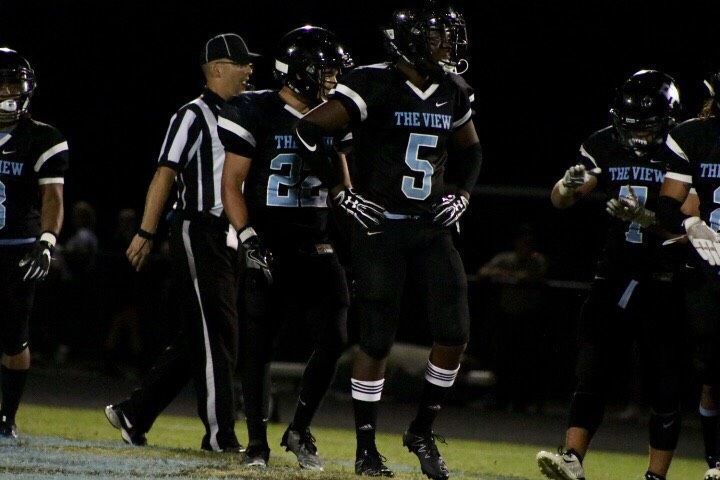 The hard work and determination just keeps paying off for Coen King.
In a video posted by the University of Virginia football team's Twitter account Thursday, a grateful King was awarded a scholarship at the conclusion of the Cavaliers' morning practice.
King, a redshirt sophomore defensive back, walked on at UVa after graduating from Eastern View High School in 2018. He redshirted after appearing in just one game during his first season in Charlottesville, but saw action on special teams in eight of the Cavaliers' 14 contests in 2019, including registering a tackle against Florida in the Orange Bowl.
In the 52-second video, UVa head coach Bronco Mendenhall is seen talking to the huddled team when a "bike courier" rides up to him and announces he has a "special delivery." The man hands Mendenhall two envelopes--one with King's name on it and another with redshirt junior wide receiver Hayden Mitchell's on it.
Upon hearing Mendenhall announce the names, the team immediately launches into a wild celebration, screaming and jumping up and down as it swarms around both King and Mitchell.
This sort of ritual has become commonplace on campuses across the country in recent years whenever a walk-on or walk-ons have earned a scholarship.
Near the conclusion of the video, Mendenhall is seen congratulating a kneeling King while presenting him with his envelope.
King played only one year of varsity football for the Cyclones, leading them in interceptions and tackles despite playing in just nine games as a senior. His efforts garnered him first-team all-Battlefield District and second-team all-Region 4B honors.
Eastern View head coach Greg Hatfield said King's work habits were quickly noticed by the Cavaliers, who were eyeing him as a recruited walk-on at the time.
"They loved how hard he played, especially on special teams," he said. "They were very open about the fact that, if he continued with that effort level, he would would get opportunities to prove he could play ACC football. I'm glad they recognize how relentless and humble he is."
Hatfield continued on about his former charge.
"He doesn't waste opportunities, and he's never thought he was too good to practice hard and play hard," he said. "Coen is just a great young man, and I'm so proud of him."
A feature story on King's journey, including his thoughts on earning a scholarship and other topics, will appear next week in the Culpeper Star-Exponent.
Be the first to know
Get local news delivered to your inbox!