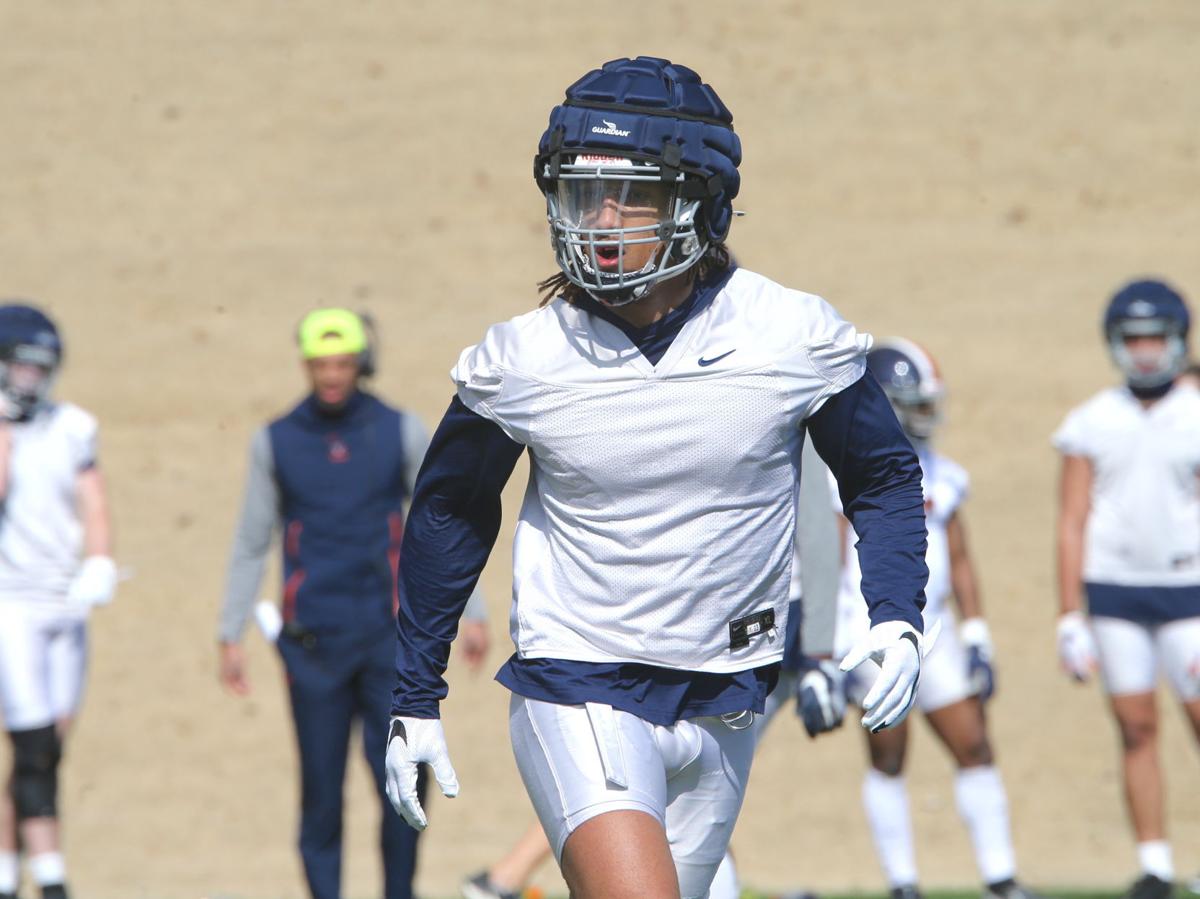 Charles Snowden developed into the face of the Virginia football team in 2020. A captain and an NFL prospect, the linebacker was a vocal leader with exceptional skill and work ethic.
As the Cavaliers head into the 2021 season, Snowden is off to chase his NFL dreams.
Joining him is fellow NFL hopeful Zane Zandier, who earned All-ACC honorable mention honors in 2019 and 2020. UVa's defense, which relies on quality linebacker play in its 3-4 scheme, will enter the fall without two linebackers who combined for 443 tackles, 50.5 tackles for loss and 24.5 sacks in their careers.
"You're losing a lot of experience, you're losing good leadership, you're losing guys that know the culture, they know what the expectation is, they know the standard," Virginia linebackers coach Kelly Poppinga said. "Obviously, you're losing a lot right there, so I don't want to make this sound like we aren't losing much, but I feel very good about where we're at with the depth that we have."
Even with two stars departing, UVa likes the players who may slide into starting roles this season. Two obvious projected starters are senior Noah Taylor and junior Nick Jackson.
Taylor, an outside linebacker, dealt with a back injury last season that hampered his ability. He still finished with 44 tackles, including 8.5 tackles for loss, in nine games. The NFL prospect feels healthy as the team begins spring practices.
"I feel a lot better, and I've just been waiting to get to this point where I'm starting to feel a lot better just so I can go out there and perform the way that I know I can and the coaches know I can," Taylor said. "I've definitely gotten a lot better, and I'm very excited to see the improvement."
With Taylor healthy outside, Jackson fills a role inside. He's a physical presence, leading Virginia with 105 tackles in 2021. Jackson earned third team All-ACC honors last fall.
The coaches like Jackson's tackling ability and instincts, although Poppinga was candid Thursday when discussing the likely starter's coverage skills.
"Nick was not good in coverage last year," Poppinga said. "As far as playing the run and his pass rush, I think he's on par to be able to continue to develop to be a really good player in those two facets of the game. Now he's got to get way better in his coverage, and he knows that and we've talked about it."
UVa's pass defense struggled last season, allowing an ACC worst 304.4 passing yards per game. Poppinga places some of that blame on underneath coverage, an area where linebackers often play an important role.
In addition to Taylor and Jackson, redshirt senior Elliott Brown figures to be in the mix as a potential starter. The outside linebacker started one game a season ago, and he's seen playing time in spurts throughout his collegiate career.
Brown decided to come back for an additional year after learning of Snowden and Zandier's departures.
Outside of those three linebackers, competition this spring and summer will determine which players receive significant reps for arguably the most critical position group on Virginia's defense.
"There's a whole slew of young players that we're so excited about," Virginia head coach Bronco Mendenhall said, "but rather than mentioning them, it'll be better to just track them throughout the spring."
While Mendenhall didn't name drop any youngsters, UVa's players and assistant coaches didn't hold back. Sophomores Josh Ahern and D'Sean Perry are two players who coaches and players know well and believe have good potential at the position. Perry returned an interception 84 yards for a touchdown against Abilene Christian in 2020, and Ahern has been impactful on special teams.
Chico Bennett Jr., a transfer from Georgia Tech who is listed as a defensive end, is a potential option off the edge.
James Jackson, a freshman from Pulaski, also drew praise from his teammates. He's the first young player that came to mind for Brown, even drawing a comparison to Snowden.
"He reminds me a little bit of how when me and Charles came in, he reminds us of how we played at that Sam position, more in space as a linebacker," Brown said. "He moves pretty well. I think he's advancing pretty quickly."
Redshirt freshmen Sam Brady, Brandon Williams and Jonathan Horton were also mentioned as young players with high upside. Junior T.C. Harrison provides a bit more experience in than program than some of the younger standouts.
Regardless of who ultimately works their way into the linebacker rotation, Virginia feels confident in the linebacker position. Two stars departed, but the talent pool behind Snowden and Zandier seems rich to UVa's coaching staff.
"We think we're deep at linebacker," Mendenhall said. "The names will be new, but we like the capabilities of what those players look like."