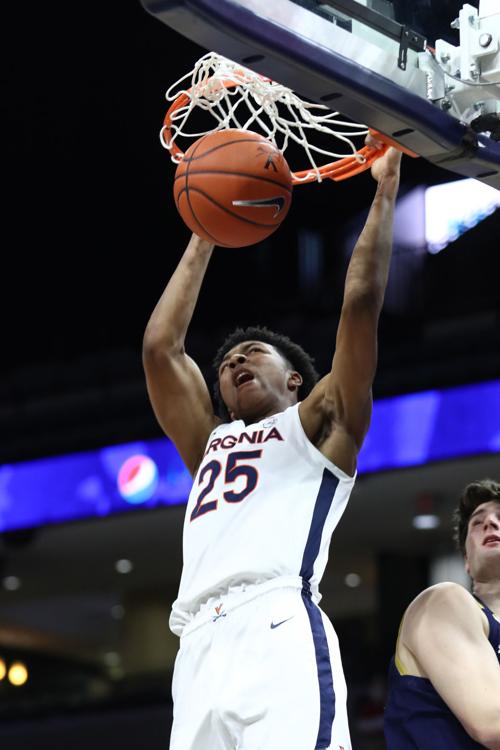 Virginia men's basketball fans were waiting for this version of the Cavaliers.
After a rocky start to nonconference play, the Cavaliers seem like the team people expected them to be in the preseason. Wednesday against Notre Dame, the offense operated efficiently and the defense forced contested shots in one of the team's most complete showings of the season.
Sam Hauser came one rebound shy of his fourth consecutive double-double, Jay Huff calmly drained four shots from beyond the arc and Casey Morsell looked like the best version of himself on both ends as UVa cruised by Notre Dame, 80-68, at John Paul Jones Arena.
Morsell, coming off a break due to COVID-19 contact tracing protocols, scored 15 points on 6-of-7 shooting.
"I was really excited to see Casey come back," Virginia coach Tony Bennett said. "I said to him, 'Practice? Practice is overrated.' I said, 'You get another 10-day break.'"
The surging Cavaliers controlled the game from the opening minutes. They opened the game with a 3-pointer from Huff and led for the majority of the game, with Notre Dame taking a 6-5 lead for just 19 seconds before Trey Murphy drained a 3-pointer to put the Wahoos back on top.
Virginia led the rest of the game.
With the Wahoos leading 24-18, Huff knocked down 3-pointers on consecutive possessions to give Virginia a 30-18 lead with 3:40 left in the first half. The 3's were solid, but it's what followed defensively that generated a big fist pump from Bennett.
Huff stepped in front of Notre Dame guard Prentiss Hubb near UVa's bench. He hit the ground, and the official turned the other way to signal for an offensive foul. The bench mobbed Huff, helping him to his feet where he was quickly greeted by a high five from Bennett.
"I never intentionally took charges in high school, college, none of it has been intentional," Huff said. "It's kind of worked out to where I've gotten a couple, and I've gotten kind of lucky, so that was exciting."
UVa's center finished the first half with 12 points thanks to four made 3-pointers. He added six points in the second half
Hauser, while not drawing a bench-erupting charge, scored 13 points and added six rebounds in the first half. He ended the game with 15 points and nine rebounds. The Marquette transfer went to work in the mid-range and post in the first half, taking defenders one-on-one with a variety of moves. The result was 5-for-7 shooting in the first half.
Virginia led 37-25 at halftime, as the Fighting Irish went an abysmal 1-of-13 from 3-point range.
Behind Hauser, Huff and solid play from Morsell, who was a perfect 3-for-3 on 3-pointers, Virginia opened up its lead in the opening minutes of the second half. The Cavaliers started the half on a 20-8 run to take a commanding 57-33 lead.
Notre Dame's offense struggled for the first 30 minutes before finally finding some life toward the end of the game. The Fighting Irish outscored Virginia 25-11 after falling behind 57-33 to pull within 68-58. Cormac Ryan scored all 16 of his points for Notre Dame in the second half.
"I thought we drifted into some old habits defensively that aren't gonna cut it, and that was disappointing," Bennett said. "But yes, there was some good defense in the first half, good ball movement."
UVa ended Notre Dame's hope with a 7-0 run in response. The run began with a Morsell 3-pointer and was punctuated by a stolen inbounds pass and dunk from Reece Beekman, who played solidly yet again for the Cavaliers.
"I just used the quarantine to my advantage," Morsell said. "I was fresh. My shoulder felt good. I just came out there really relaxed and confident and ready to go."
The road gets tougher for UVa, with a trip to No. 12 Clemson coming on Saturday. Fortunately for Virginia, it's starting to look the part of the ACC preseason favorite.