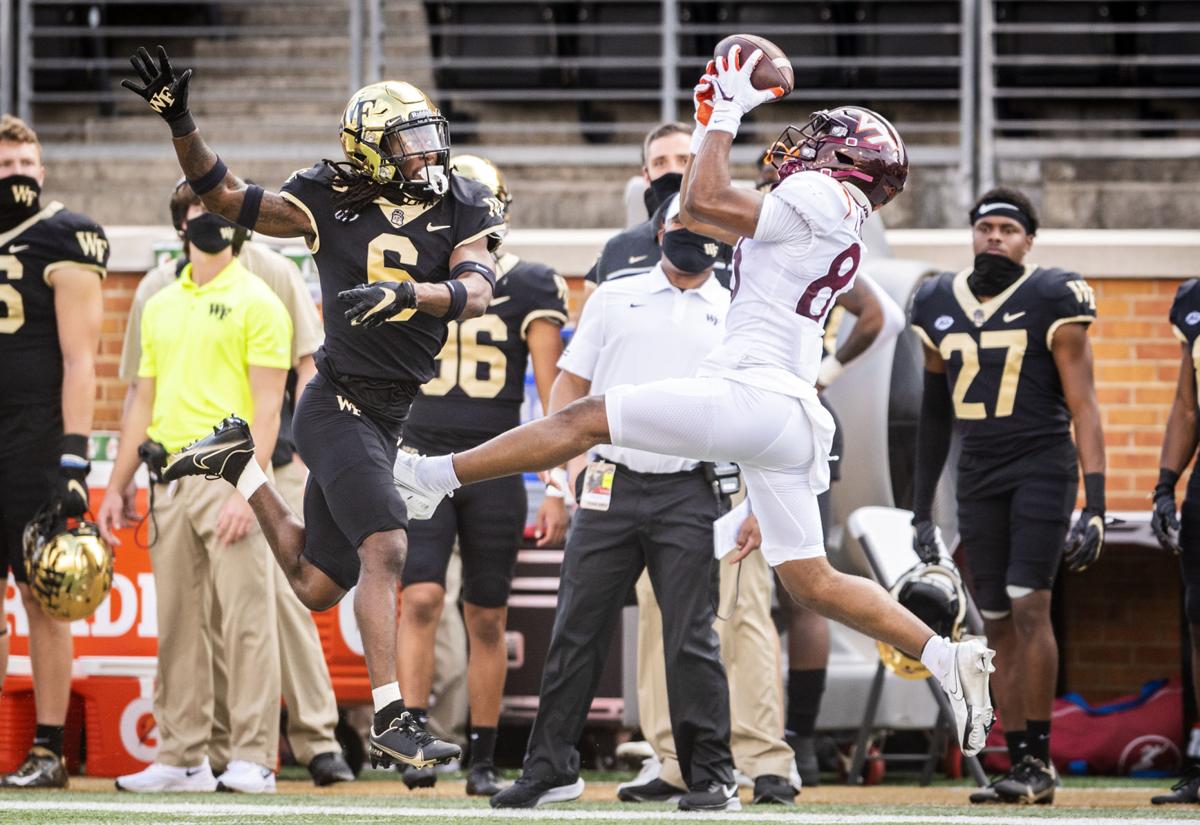 WINSTON-SALEM—Virginia Tech just couldn't get out of its own way on Saturday at Truist Field.
The Hokies suffered an ugly 23-16 loss to Wake Forest thanks to a series of unforced errors from three interceptions to 10 penalties (for 111 yards) and four trips inside the red zone resulting in only six points.
The 10 penalties tied for the most in a single game against Tech during coach Justin Fuente's tenure (2018 Military Bowl).
On a critical drive in the fourth quarter trailing 23-13, Tech was called for holding twice and quarterback Hendon Hooker was sacked for a 7-yard loss on a third down at Wake's 34-yard line. The Hokies were forced to settle for a 51-yard field goal attempt, which kicker Brian Johnson missed wide left.
Johnson did hit a 54-yarder with 2:32 to make it a one-possession game, but the Hokies didn't get the ball back until there was 45 seconds to go and they were pinned back at their own 2-yard line. Hooker threw his third interception—a career-high—in the final seconds.
The Hokies defense also made critical mistakes with the most notable coming early in the third quarter when Jarrod Hewitt was called for targeting. Hewitt came in late on a team sack of Sam Hartman at midfield, and the officials ruled that he led with the crown of his helmet.
After they reviewed the call, Hewitt screamed at the officials as he was led off the field by strength and conditioning staff member Ryan Shuman and was called for unsportsmanlike conduct. The 30-yards worth of penalties put Wake Forest in field goal range.
Wake's offense put up Virginia Tech-like rushing numbers to take a 17-10 lead into halftime. The Demon Deacons ran the ball 24 times for 141 yards (5.9 yards per carry) with running backs Chrisitan Beal-Smith and Kenneth Walker making key contributions.
Beal-Smith had a 58-yard run on his team's opening drive of the game to help set up a 9-yard touchdown run by quarterback Sam Hartman.
Walker's touchdown came late in the first half after Tech tied it up 10-10. Wake Forest put together a methodical 17-play, 75-yard drive that took more than seven minutes off the clock and featured three fourth down conversions. Walker scored on a 6-yard run out of the wildcat with his second effort helping him cross the goal line.
Tech's offense looked out of sync in the first quarter—Hendon Hooker was sacked twice, was nearly picked off on a poorly thrown jump ball to tight end James Mitchell and they went 1 of 4 on third down—and their lone trip inside the redzone ended with a missed goal (42-yard attempt from Brian Johnson).
But that wasn't the Hokies only missed opportunity in the half.
They had a drive stall with a fresh set of downs at Wake's 4-yard line early in the second quarter. The offense couldn't recover after Raheem Blackshear was tackled for a loss of 7-yards on first down. Johnson connected on a 28-yard attempt to put Tech on the board.
The highlight of the half for Hooker was a 39-yard touchdown pass to James Mitchell in the second quarter to tie the game at 10-10 with 8:40 to go in the first half. Herbert was kept mostly in check in the early going, but did have a 35-yard reception off a delayed screen.
Mike Niziolek is the Virginia Tech football beat writer for The Roanoke Times. Follow him on Facebook and Twitter.
Be the first to know
Get local news delivered to your inbox!