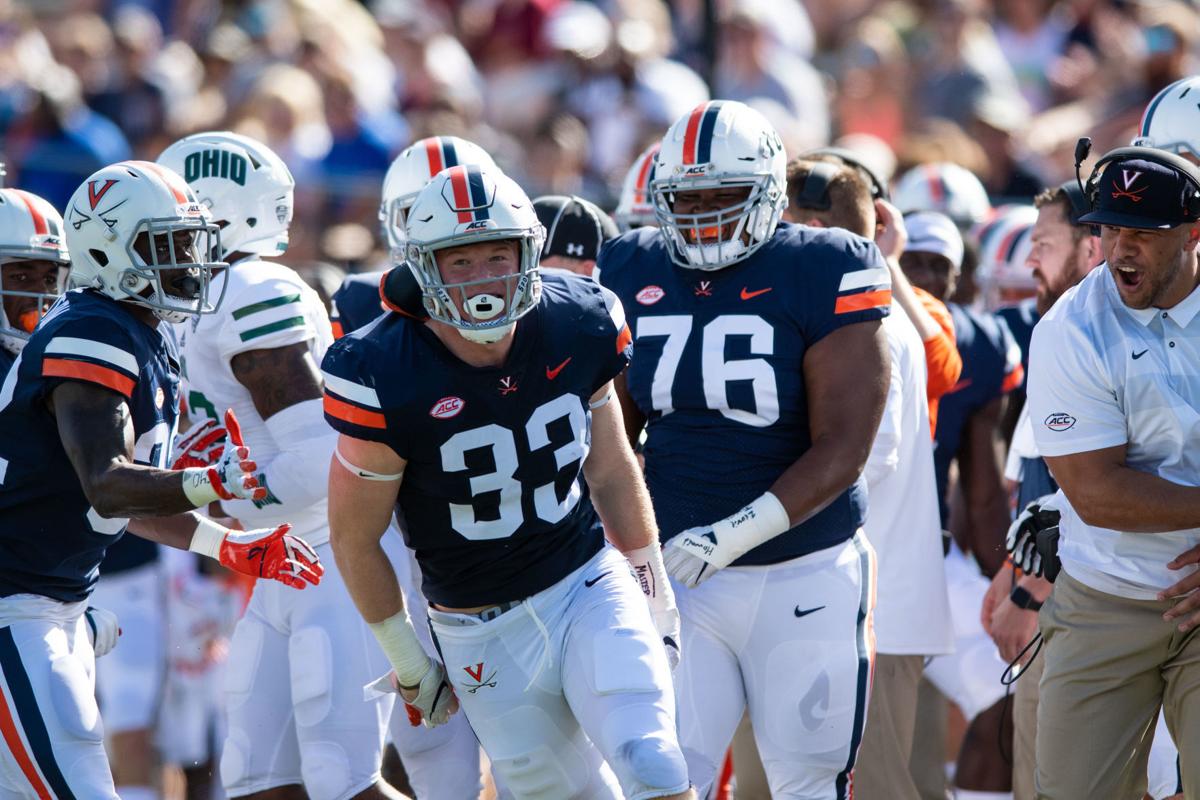 CHARLOTTESVILLE – If Virginia football coaches feel the need to emphasize the toughness and physicality needed to play the game, all they have to do is point to the middle of their defense, to the Pittsburgh kid with the number zero on his jersey.
They can model Zane Zandier.
"There is a presence and it's necessary," said co-defensive coordinator Nick Howell. "We rely on him for that."
The 6-foot-3, 220-pound Zandier has played in 39 games over the past three seasons, starting all 14 last year and leading the Cavaliers with 108 tackles. He had five sacks and 12 ½ tackles for loss. His teammates have taken notice of the way he plays.
"Just to have him every day, playing right beside him, learning his physicality, his leadership, everything he brings to the table," said fellow linebacker Nick Jackson. "Just trying to emulate what he does. He's unbelievable to have as a teammate. He's like a brother to me."
Zandier has done it with a rugged, if not always technically disciplined style.
"Zane's not always doing the right thing, but he's always going really hard," said Howell. "As long as we hold the edge, meaning we don't let the ball get around us, Zane's going to run inside out and try to hit you."
Zandier and Jackson will start at inside linebacker for a UVA defense that is deep and experienced, particularly at linebacker, where outside backers Charles Snowden and Noah Taylor are versatile athletes and disruptive pass-rushers.
It's something coach Bronco Mendenhall have worked toward since taking over the program five years ago and implementing their 3-4 base defense.
"This year we're probably the deepest we've ever been at linebacker," said inside linebackers coach Shane Hunter. "At the same time you look and say we have a bunch of really good players."
In all, the defense returns 10 of 11 starters from its Orange Bowl loss to Florida – all except defensive end Eli Hanback.
Virginia allowed 27.1 points per game in 2019, sixth best in the ACC, and held opponents to the fourth fewest rushing yards per game in the league (138.1). But where the Cavaliers struggled was allowing big plays, especially in the second half of the season.
They gave up 18 plays of 40 yards or more last season. Only 18 Division I programs and just four Power Five games allowed more.
The defense also loses a pair of stars who missed part of last season with injuries in linebacker Jordan Mack and cornerback Bryce Hall.
Those two were leaders on the defense, a role Zandier has taken a larger part of this season. Leadership became more complicated starting in March, as the COVID-19 pandemic forced teams first to work independently to get in shape for the season and then, to work collectively to prevent the virus from spreading through their ranks.
It's meant a level of discipline rarely demanded from college-age students and a level of self-policing above and beyond the normal for athletic teams.
"We're socially starved as 22 year old kids that are looking for a college experience," said Zandier. "But I think we kind of accepted when we got here that that's not the way it's going to be."
As for his new jersey number, Zandier – who sported a Mohawk earlier in his college career and who fans nicknamed ZZ Stop – when the NCAA changed its rules to allow zero to be worn, he figured it would suit him.
"I thought it would be a great opportunity to make a little history," said Zandier. "To be able to wear it for the first time for UVA, I think it's really different. It's unique."
Be the first to know
Get local news delivered to your inbox!