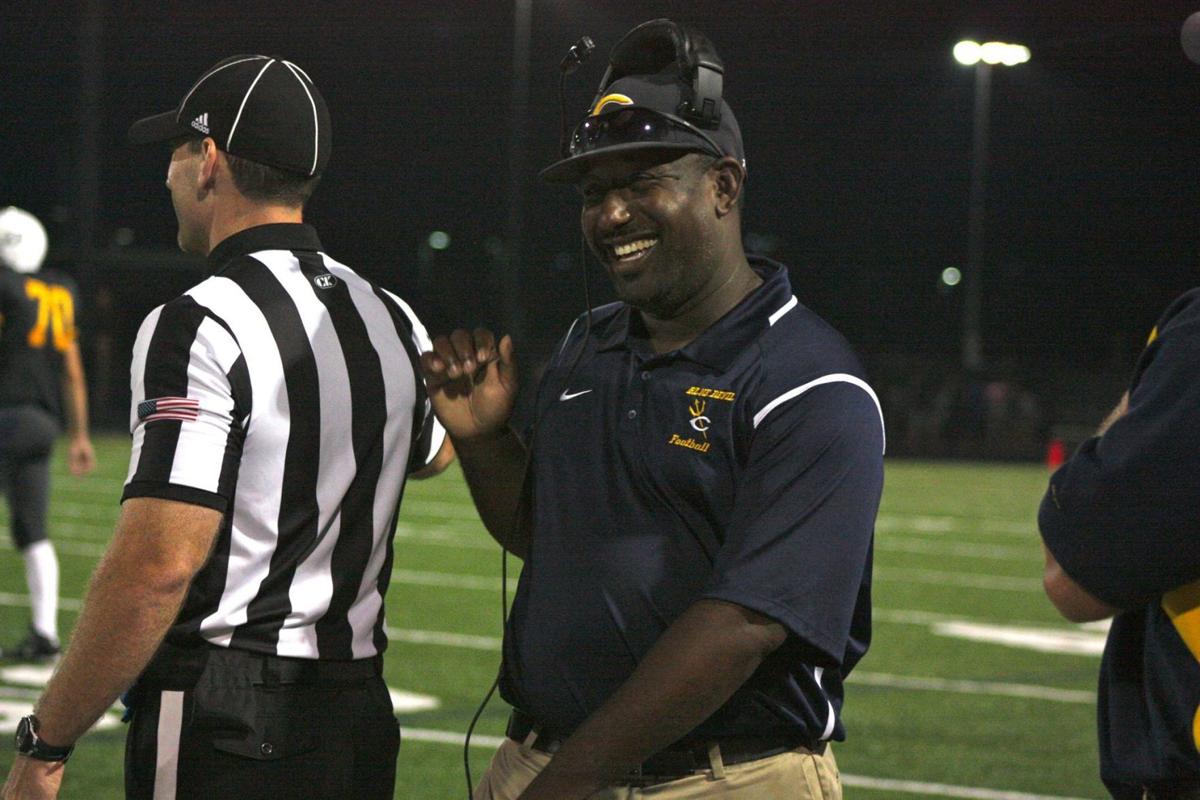 In the wake of his sudden passing over the weekend, friends, colleagues and proteges alike are taking the time to reflect on the life of a man who touched many lives in Culpeper County.
Eric Dinkens, who served as a mentor to countless young people in the county through various roles for more than two decades, died of a heart attack Sunday at his home. He was 49 years old.
A 1990 graduate of Culpeper High School, Dinkens spent much of his adult life teaching at Culpeper Middle School and coaching various sports from the youth level up through high school. He'd served as facilities services coordinator for Culpeper County Public Schools over the past two years.
"When I got the call [about his passing] Sunday, I couldn't believe it," said Rod Stewart, one of Dinkens' closest friends. "I'm still numb, and I've hardly been able to sleep just thinking about it."
Stewart's relationship with Dinkens began nearly 20 years ago, when the two men met through the now-defunct Culpeper Football Association.
"My son and I were just coming out of the flag football season and we were looking for a new team," Stewart recalled. "No one had picked us up, and then Eric called me and said he wanted us both on the Cowboys. That's how we started coaching together."
What started as two people coming together over their shared love of football quickly blossomed into a brotherhood.
"Eric was teaching at Culpeper Middle School back then," Stewart said. "I'd get off work at 1 o'clock, and the first place I'd go was over to the middle school. We'd sit there and talk about everything; family, kids, life, death, football, you name it. We had such a good time."
When Dinkens was given the opportunity to become CMS' new head football coach in 2011, he didn't waste any time including Stewart in the new adventure.
"One day while we were watching a CFA game, Eric said to me, 'I got the CMS job,'" Stewart said. "The next thing I know, he asks me, 'Do you want to come with me?' I was shocked. It was the opportunity of a lifetime for me to be able to coach at CMS alongside him."
In 2011, Dinkens' first year at the helm, the Cougars defeated crosstown rival Floyd T. Binns for the first time in school history.
"Winning that game was huge," Stewart remembered. "It was the start of turning CMS into a winning program. And the entire thing wouldn't have been possible if those kids didn't want to win so badly for Eric.
"I've never seen one person touch as many people in a community as he did," Stewart added. "He would tell you like it was, which wasn't always what you wanted to hear. But that's why so many people loved and respected him."
While Dinkens' first love was unquestionably football, his love of coaching eventually led him to branch out to other sports as well.
"One day, he told me he wanted to start coaching basketball," said Stewart, who is Culpeper High's current junior varsity boys basketball coach. "He said, 'I don't know anything about basketball, but I'll figure it out.'
"Next thing I knew, he was the basketball coach at CMS," Stewart said with a chuckle.
Dinkens, often referred to as "Dink" by those who knew him, went on to serve as an assistant football coach at Culpeper High from 2013-18, which allowed him to continue to guide many of the players he'd coached at both the youth and middle school levels toward reaching their full potential as student-athletes.
During the same time, Dinkens was also traveling a similar path with his only child, Daisy.
"Eric loved Daisy as much as a father can love a child," Stewart said of Dinkens' relationship with his daughter, who went on to play volleyball at Division II East Stroudsburg (Pa.) University after graduating from Culpeper in 2016. "He spent a lot of time traveling up and down the East Coast with her so she could play travel volleyball and have the opportunity for more college coaches to see her play. He was very proud when she accepted that offer to East Stroudsburg."
"He loved with all his heart," Blue Devils athletic director Danny Nobbs said of his longtime friend and colleague. "And that went for more than just his family. He loved being here and being a Blue Devil."
Dinkens' former players didn't waste any time expressing the love they felt for him.
"Dink coached me in little league, middle school, junior varsity and varsity [football]," said Eli Marks, a 2016 Culpeper grad who went on to play collegiately at Division II UVA-Wise. "He was there for me from the beginning as a great coach, but even more so as a mentor."
Marks recalled being inconsolable following a heartbreaking 24-21 playoff loss to Skyline in November 2015 that ended his high school career.
"I just started crying," he said. "And without hesitation, Dink was the first person to grab and hug me. I just sat there and cried in his arms. Not much was said between us, but nothing needed to be. It was understood."
For some, Dinkens even took on the role of a father figure.
"With my father not being around for the majority of my youth, Dink became the male role model in my life," said 2020 Blue Devil alum Armani Hoffman. "He changed the direction of my life and inspired me to drop my ego and strive to always be a leader in whatever I was doing.
"Truth be told, life was so much bigger than football to Dink," Hoffman continued. "He cared about everyone's well-being, grades and goals, but, most importantly, their happiness."
"He'd load kids up in the car and take them to camps or for [college] campus visits," Stewart said. "He did that because he cared so much about them and wanted them to have an opportunity to be successful in life. And it didn't matter if he was coaching at the high school or the middle school, or if the kids played for Culpeper or Eastern View. He loved this community."
When Ken Wakefield stepped down as the Blue Devils' head coach following the 2018 season to take the same position at Patrick Henry-Ashland, Dinkens also walked away from Culpeper's coaching staff. But his presence was still felt even after he'd stepped away, and it wasn't just because he was the public address announcer for many of the school's sporting events.
"He's continued to have immeasurable impacts on countless athletes, both in our program and across the community," said current Blue Devils head coach James Ford. "He welcomed me with open arms when I got here, and he always displayed a willingness to contribute in any way possible, regardless of what his position was. He will be dearly missed."
A petition requesting the Culpeper County School Board change the name of Culpeper High's football stadium from Broman Field to Eric Dinkens Stadium originated on Change.org Tuesday. In less than 48 hours, it has amassed nearly 2,500 signatures.
Daisy Dinkens was one of the first people to sign the petition. She also left a message, which read: "For you Dad, love you & until we meet again."
School board member Barbee Brown, who also knew Dinkens well, spoke very fondly of his character and the impact he had on the community.
"Eric Dinkens was a fine young man who had a great influence on many of our Culpeper youth," she said. "His sense of humor and charisma made his circle of friends larger than most.
"Speaking for myself as a retiree of the school system, I have seen the positive motivation Eric provided as he mentored many of our students," Brown added. "He was personally responsible for many of our youngsters becoming involved in sports and other school activities. As an African American, he was an excellent role model for our young African American students."
"This movement to rename the stadium after him just shows how much he truly meant to the Culpeper community," Hoffman proclaimed. "He impacted people's lives in ways that most coaches never could."