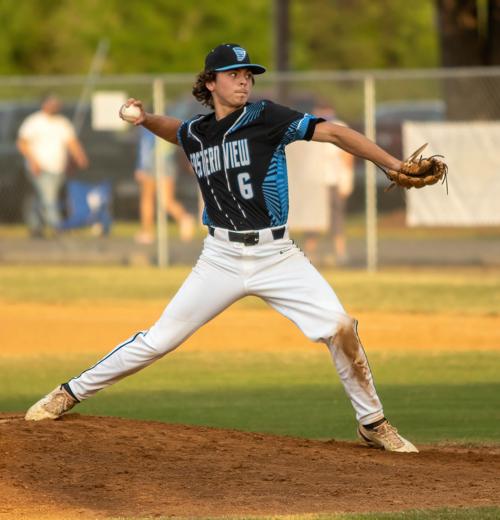 To say Monday's season-opening loss to James Monroe left a bad taste in the mouth of the Eastern View baseball team would be an understatement.
Determined not to let that taste linger for another day, the Cyclones made sure to gurgle, rinse and repeat in Wednesday night's Battlefield District matchup with Caroline.
Dylan McKinney and Carl Morrison each went 3 for 4 with three RBIs, fueling an Eastern View offense that scored all its runs over the course of three big innings in a 15-8 victory over the host Cavaliers.
"We shook the rust off [tonight]," first-year Cyclones head coach Collin Tucker said. "The guys hadn't played a high school baseball game in almost two years because of COVID wiping last season out, and it showed on Monday. Tonight was a much better performance."
Eastern View had the first of its three big innings in the top of the first, taking advantage of Caroline starter Kaleb Scott's inability to find the strike zone to take a lead it would never relinquish.
McKinney led off with a double to right field, then moved to third base on Gillette Harris' sacrifice bunt. Scott then walked the next four batters—Kelly Hackley, Robert Fry, Spencer Chilton and Thomas Babbich—with the latter two forcing in a pair of runs. Morrison subsequently blooped a two-run single down the left field line to make it 4-0, and McKinney delivered an infield RBI single in his second at-bat of the frame to push it to 5-0.
"We just pounced on them quick," said McKinney, a junior who started the game at catcher before relieving Babbich on the mound in the bottom of the fifth. "We just got in [Scott's] head and we just kept on going."
Scott lasted three innings, yielding the five runs on four hits while walking five and striking out four.
Clinging to a 5-4 advantage, the Cyclones scored six runs—all unearned—off Cavaliers reliever Kyle Tingen in the fourth to blow the contest wide open.
Babbich helped his own cause with a two-out, two-run double down the right field line to start the rally. Morrison followed him with an RBI infield single, and then McKinney laced a two-run single up the middle.
Another run came across on the second error of the frame by Caroline third baseman Justin Washington, and Eastern View's lead ballooned to 11-4 by the time the dust had settled.
"It was important that we stayed on [Caroline] all game," said Morrison, a junior second baseman.
Eastern View added a four-run sixth to put the game out of reach. Harris slapped an RBI single to highlight that outburst.
The Cyclones' deluge of offense made a winner out of Babbich, who labored through 4 1/3 innings, allowing 11 hits and seven runs (five earned) while walking three and failing to register a strikeout. The sophomore finished 2 for 3 at the plate with two RBIs, a pair of walks and three runs scored though.
McKinney finished the contest for Eastern View after taking over for Babbich, scattering three hits and one earned run while walking three and striking out one over 2 2/3 innings of work.
"We came in and we threw strikes," Tucker said of his pitchers. "I told the guys our defense is good enough that if we throw strikes, we're gonna make the plays behind them in the field."
Caroline (0-1) collected 14 hits on the night, but left 12 runners on base. Tingen, who started at first base, went 4 for 4 with an RBI and a walk, while shortstop Trevor Beale was 4 of 5 with a double. Washington finished 2 for 4 with an RBI double, and freshman right fielder Myles Holmes posted a 2-for-4, two-RBI effort in his first varsity outing.
Eastern View 5 0 0 6 0 4 0—15 9 3
Caroline 4 0 0 1 2 0 1—8 14 3
THOMAS BABBICH and Dylan McKinney (5). KALEB SCOTT, Kyle Tingen (4), Michael Johnson (4), Trevor Beale (6), Christian Tingen (6) and Jordan Chapman.