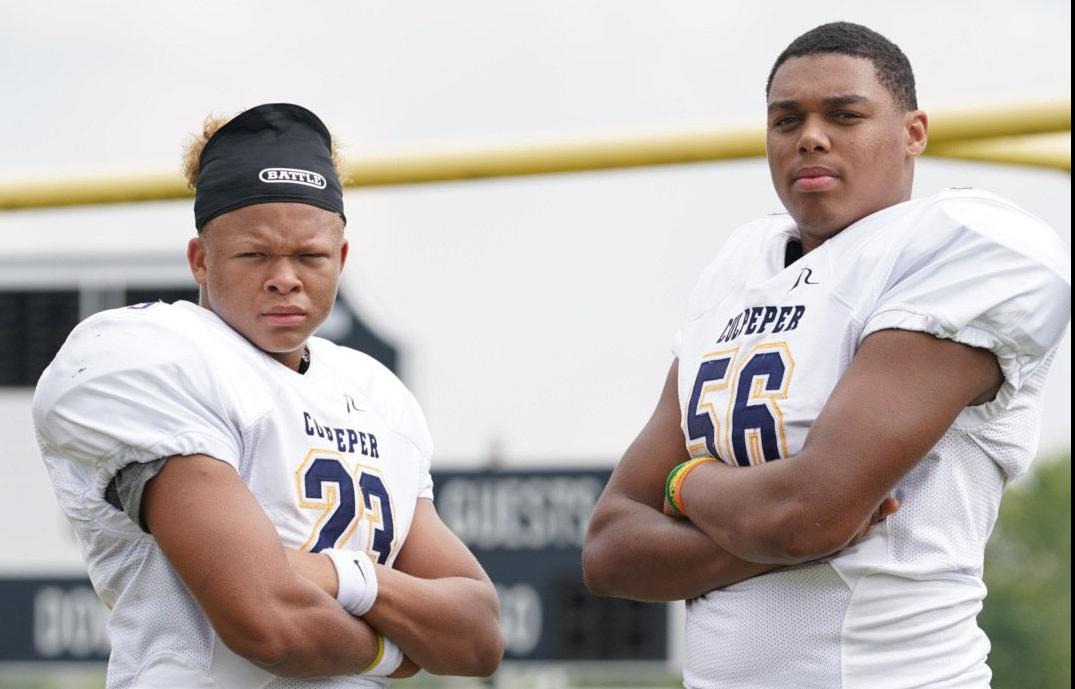 Both coming off losses a week ago, the Spotsylvania and Culpeper County football teams entered Friday night's matchup in search of momentum for the playoff push.
It was the visiting Blue Devils who took advantage of the opportunity to seize that momentum, scoring 27 second-half points to post a 34–21 Battlefield District victory.
The Knights (3-3 overall, 1-2 district) and the Blue Devils (4-3, 2-2) found themselves locked in a defensive struggle at the outset of the game, with Culpeper knotting up the score at 7–7 on quarterback Bennett Sutherland's 16-yard touchdown pass to Anthony Marshall early in the second quarter. But Ethan Cockrill's 7-yard scoring run with 5:36 left in the first half gave Spotsylvania the lead heading into the locker room.
The Blue Devils took over the contest after halftime, however, scoring TDs on four of their first six drives. The Culpeper defense woke up as well, forcing three turnovers and stuffing the Knights on a fourth-down attempt.
"We played timid in the first half," Blue Devils head coach James Ford said. "We weren't playing well up front and our linemen took that [personally]."
Culpeper's improved offensive line play after intermission paved the way for junior running back Malachi Terrell to finish the night with 179 yards and three scores on the ground.
Terrell gave the Blue Devils the lead for good at 21-14 with a 61-yard TD run early in the fourth period. He went on to add scoring scampers of 6 and 23 yards, respectively, later in the stanza.
"I had to change the mood and get everyone motivated to win," Terrell said when asked about the first of his three TDs.
With Friday's effort, Terrell, who entered the game as the Fredericksburg area's leader in rushing yards and TDs, eclipsed the 1,000-yard mark for the first time in his career.
Culpeper also got a banner effort from Sutherland, who completed 17 of 21 passes for career-highs of 185 yards and two scores.
Spotsylvania was paced by senior QB Monte McMorris III, who went 9 of 18 for 132 yards with a pair of TDs and an interception. Jefferson Paz hauled in both of McMorris' scoring strikes and finished with four receptions for 81 yards.
"We got down and didn't capitalize in the red zone," Knights head coach Jeremy Jack said of his squad's effort. "We were inside the 10 and didn't come away on plays that should be routine for us. We didn't play with a sense of urgency."
Spotsylvania will host Eastern View next Friday, while Culpeper is set to visit James Monroe the same night.
Culpeper County 0 7 7 20—34
Sp—Jefferson Paz 15 pass from Monte McMorris III (Mac Robinson kick)
CC—A.J. Marshall 16 pass from Bennett Sutherland (R.J. Uribe kick)
Sp—Ethan Cockrill 7 run (Robinson kick)
CC—Cole Plaster 6 pass from Sutherland (Uribe kick)
CC—Malachi Terrell 61 run (Uribe kick)
CC—Terrell 6 run (Uribe kick)
Sp—Paz 40 pass from McMorris III (Robinson kick)
CC—Terrell 23 run (kick failed)
TEAM STATISTICSFirst downs: Culpeper County 13; Spotsylvania 9
Rushes-yards: Culpeper County 35-179; Spotsylvania 22-108
Passing yards: Culpeper County 185; Spotsylvania 132
Comp-Att-Int: Culpeper County 17-21-0; Spotsylvania 9-18-1
Punts-avg: Culpeper County 3-22.0; Spotsylvania 2-33.0
Fumbles-lost: Culpeper County 1-1; Spotsylvania 4-2
Penalties-yards: Culpeper County 6-54; Spotsylvania 5-69
INDIVIDUAL STATISTICSRUSHING: Culpeper County—Malachi Terrell 30-179, 3 TDs; Bennett Sutherland 3-6; Jakari Edwards 1-1; Team 1-(-7). Spotsylvania—Tyson Anderson 7-46; Davon Banks 5-34; Ethan Cockrill 5-27, TD; Trenton Ballard 1-8; Monte McMorris III 4-(-7).
PASSING: Culpeper County—Sutherland 17-21-0, 185 yards, 2 TDs. Spotsylvania—McMorris III 9-18-1, 132 yards, 2 TDs.
RECEIVING: Culpeper County—Cole Plaster 5-58, TD; A.J. Marshall 5-56, TD; Terrell 1-36; Johntae Washington 2-17; Alex Lowe 1-8; Larry Williams 1-6; Dillan Shiflett 1-3; Edwards 1-1. Spotsylvania—Jefferson Paz 4-81, 2 TDs; Jake Jack 4-41; Ballard 1-10.