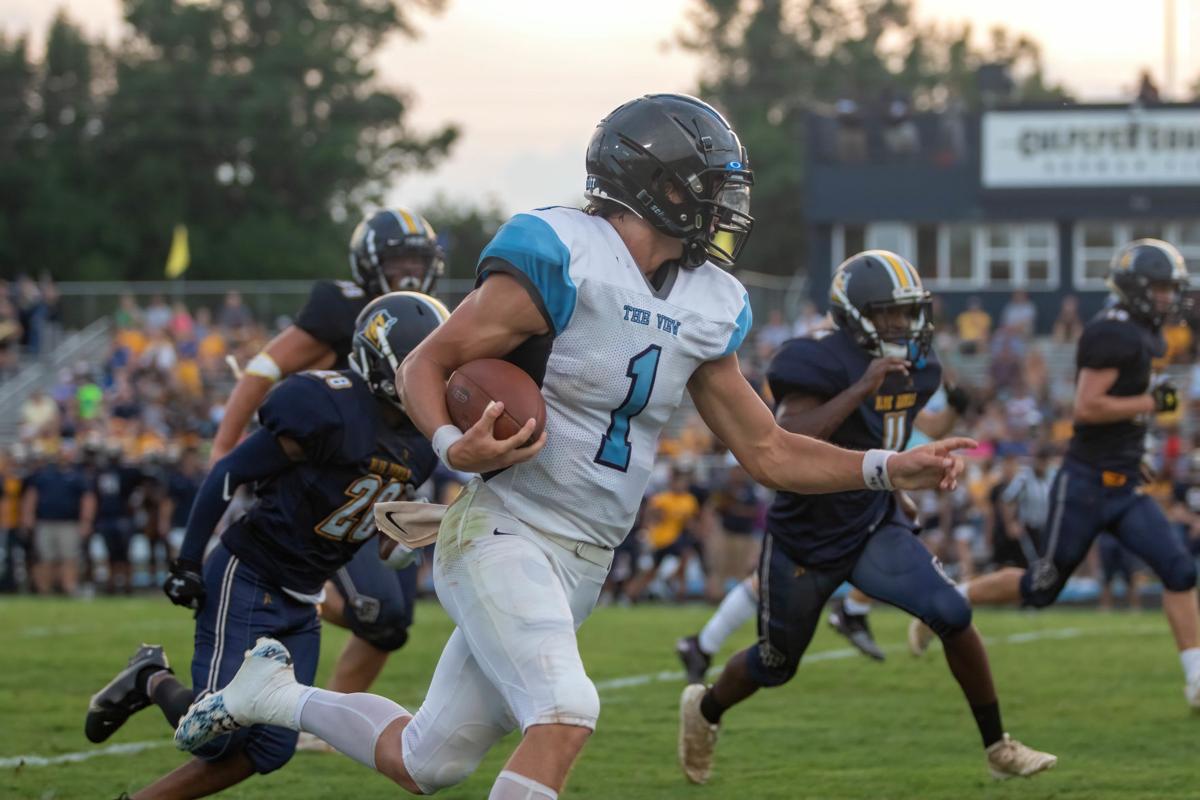 The Eastern View football team finds itself in an unfamiliar position entering Friday's regular-season finale against visiting Millbrook: out of playoff contention.
The Cyclones (4-5) are 13th in the Region 4B power-point rankings with a 19.33, well out of reach of the eighth and final spot, which is currently occupied by Hanover (23.13).
Eastern View's predicament is largely the byproduct of a four-game losing streak. The Cyclones started the season 4-1, but haven't found the win column since a 35-0 victory at Caroline on Oct. 1.
Now, with the inevitability of its campaign's end staring it in the face, Eastern View faces two choices: pack it in, or focus on trying to end on a high note.
"There's definitely some frustration about how things have gone," Cyclones head coach Brian Lowery said. "But we're still trying to focus on being the best we can be."
Despite finishing with minus-32 yards rushing in last Friday's 28-7 setback at Courtland, the Eastern View passing attack had its most productive outing of the season. Senior quarterback Caden Huseby completed 18 of 29 passes for 190 yards and a touchdown, bouncing back from a 3-for-9, three-interception performance against King George the week before.
"At this point, the focus is just to click," Lowery said. "Watching the film, we're literally inches away from winning some of these games, so we need to get over that hump."
Millbrook hasn't been nearly as close to success, however. Last Friday's 56-7 loss at James Wood dropped the Pioneers to 1-8 on the year, and they've been outscored 354-154 by their opponents.
Regardless of those results, Lowery is expecting a tough, well-coached squad to march in to Cyclone Stadium Friday night.
"We played Millbrook many times when I was [offensive coordinator] at Kettle Run," he said. "I know their staff pretty well, and regardless of their record, they're going to play hard-nosed football and they're going to be well-coached."
Millbrook boasts a dangerous passing combo in junior QB Detric Brown and senior wide receiver C.J. Standen.
Brown went 5 of 12 for 96 yards and a score against James Wood, with Standen hauling in that TD on the way to three receptions for 103 yards in the contest.
Two weeks ago, Brown completed 18 of 36 pass attempts for 314 yards and three scores and also ran for the game-winning TD in the Pioneers' 39-38 win at Liberty (Bealeton). Standen caught seven of those passes for 155 yards and a score.
"We'll need to take care of the little things against them," Lowery pointed out. "We can't anticipate snap counts, and we need to wrap up and drive on tackles."
After finishing 3-3 last spring, this will be the second season in a row that Eastern View has missed the postseason. That hasn't happened since 2011-12.
"This is going to be a big offseason for us," said Lowery, who wasn't hired as the Cyclones' coach until June, barely a month before practice started. "We lost valuable months in the weight room last summer, but we'll go into this offseason with a plan in place. For now, we just want to send our seniors out with a bang and end the year on a positive note."
MILLBROOK (1-8) at EASTERN VIEW (4-5)Game time: 7 p.m. Friday
Last meeting: This will be the first-ever meeting between the two schools.
Last week: Millbrook lost to James Wood 56-7; Eastern View lost to Courtland 28-7.