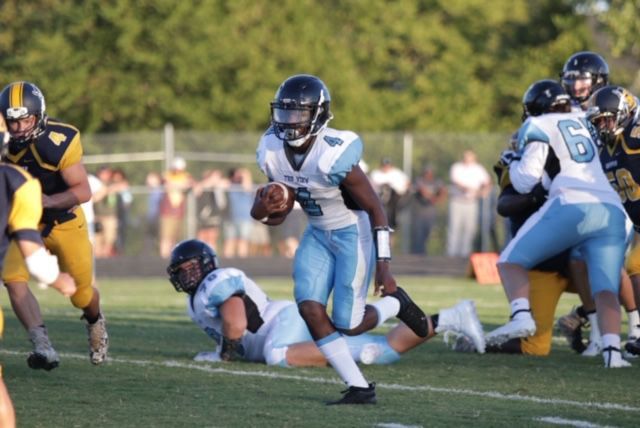 It's been less than three months since local high school football teams packed up their helmets and pads after a pandemic-delayed spring season, and it's almost time to bring them out again.
On Thursday--exactly two weeks before preseason practice begins--the Virginia High School League released its composite schedule for the fall. Most area teams kick off their season on Friday, Aug. 27.
There will be no shortage of story lines as teams recover from the shortest off-season in history. Here are games to circle on your calendar each week.
Aug. 27: Eastern View at Culpeper
For the first time in their 14-year history, the Cyclones will be coached by someone other than Greg Hatfield, who left for Battlefield High School in Prince William County after building a local dynasty. Brian Lowery takes over a program looking to bounce back after missing the playoffs for the first time since 2012--and he'll open against his county rival.
Sept. 3: King George at Massaponax
These were the two local teams that went the furthest in the spring, each reaching its respective state semifinal, and they'll meet on the field for the first time since 2002. Both teams lost plenty of senior standouts from the spring, but the Foxes' Kyle Reviello and the Panthers' Tommy Lagana are expected back.
Sept. 10: Massaponax at Louisa
For the second straight week, the Panthers will face a team that also went 6-0 during the spring 2021 regular season. The Lions relied on a very young cast that grew up quickly in the spring and won a fourth straight Jefferson District title, and that experience should make them dangerous again this fall.
Sept. 17: Colonial Forge at Stone Bridge
The spring was a rebuilding period for the Eagles, who missed the playoffs for the first time since 2007. They hope to rebound this fall, but it won't be easy. Besides a challenging Commonwealth District slate, they face this trip to the reigning Class 5 state champions, who went 9-0 in the spring and outscored their opponents 458-99.
Sept. 24: Massaponax at Mountain View
Week 5 marks the start of district play, and this opener figures to be much closer than the Panthers' 40-0 win in the spring. Junior speedster Ike Daniels should be available after missing that game with an injury, and the Wildcats rebounded to reach the Region 5D championship game.
Oct. 1: Colonial Forge at Highland Springs
The Eagles' murderer's row schedule continues as they complete their matchups with both of the spring's Class 5 state finalists. The Springers were denied their fifth title in six years by Stone Bridge in April and figure to be a daunting opponent again for standout offensive lineman Nolan McConnell and the Eagles.
Oct. 8: Riverbend at Massaponax
The Panthers are 15-1 all-time against the Bears, including a 38-0 win in the spring. But with a pair of Division I prospects returning senior QB/LB Aiden Fisher and DE/TE Mathias Barnwell, Riverbend has high hopes of reversing that trend this fall--and winning the Commonwealth District.
Oct. 15: Chancellor at King George
The Chargers gave the Foxes a rare scare during their unbeaten run to their first Battlefield District title since 2001, falling 19-14 in the spring opener. QB Trevin Edwards has graduated, but his brother Brycen should be back, as well as RB Aidyn Woolfolk.
Oct. 22: King George at Eastern View
This two-week stretch should determine whether the Foxes can repeat as Battlefield District champions. Their 35-6 victory over Eastern View in the spring snapped a 28-game home win streak for the Cyclones, who surely will be out for revenge.
Oct. 29: Mountain View at North Stafford
Playoff spots will be harder to get this fall in the supersized Region 5D, which has expanded from eight to 16 teams. Senior running back Tevin White, who has committed to Arizona State, will try to lead the Wolverines to a bounce-back season after missing the playoffs in the spring.
Nov. 5: Riverbend at Mountain View
One of those new teams in Region 5D is Riverbend, which moves down a level after barely missing the Region 6B playoffs in the spring. The Bears will be among the district favorites, and this game could determine home-field advantage for the first round.