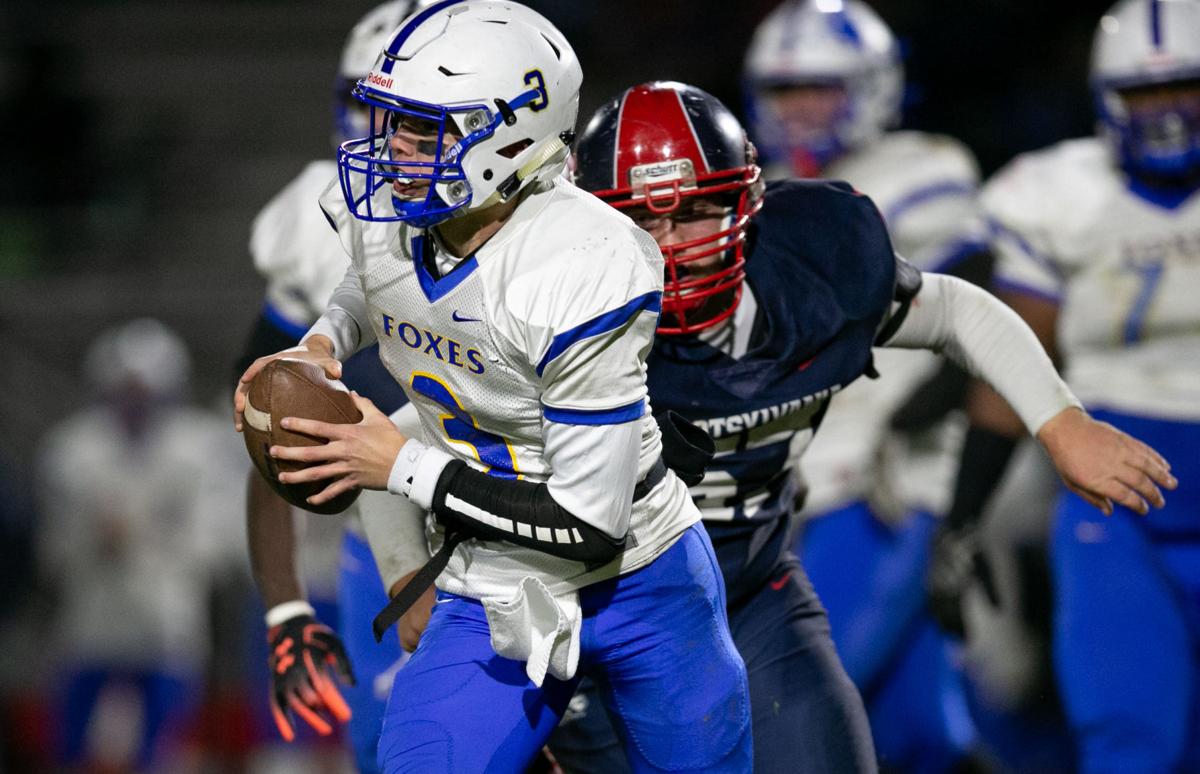 A returning senior quarterback is typically a boon to a team in any high school football season. In this campaign, having an experienced signal-caller may be more important than ever.
The season will take place in the midst of the COVID-19 pandemic. Winter weather has limited an already condensed practice schedule with some teams only having 10 sessions before they open the season Monday night. There are no scrimmages or non-district contests and coaches are faced with a fluid situation regarding the health and safety of players and staff members.
But three Battlefield District teams believe they're especially equipped to handle the six-game regular season and a postseason run because of a trio of senior quarterbacks.
Senior Trevin Edwards is entering his third season as Chancellor's starter. James Monroe's Aidan Ryan and King George's Charles Mutter are returning after leading their teams to the postseason in 2019.
The experience of those quarterbacks is expected to play a major role in the outcome of this Battlefield season.
"I think having a guy who has experience is definitely great to have with everything that we're dealing with," King George head coach Vern Lunsford said. "Having somebody that knows the offense and has prior game experience is huge."
Edwards, Mutter and Ryan have used their arms and legs to excel in recent years.
Edwards completed 62 percent of his passes for 1,514 yards, 14 touchdowns and three interceptions in 2019. He also rushed for 692 yards and 11 scores.
"It's just about being comfortable," Edwards said. "I've been throwing with these same guys for years and I know where they're going to be. A lot of our zone read stuff is second nature. We all know the offense pretty well and we're ready to compete."
Mutter, who will continue his career at Emory & Henry, passed for 1,961 yards and 17 touchdowns, while rushing for another 243 yards and six scores last season. He transferred to King George from Brooke Point prior to his junior year and helped lead the Foxes to a 6-5 record.
He has a plethora of talented skill players to spread the ball to including wide receivers Von Whiting and Chris Cox, tight end Kyle Reviello and running back Javon Campbell.
Lunsford said Mutter's work ethic was eye-opening his junior year and he's eager to see how the quarterback connects with his experienced weapons this season.
"I think the biggest thing is we have guys who have played a lot of varsity football," Lunsford said. "They're a year older, more physically and mentally mature and more prepared. I think those guys give us a good chance to compete with everybody in a very competitive district."
Ryan signed with Virginia in December to play safety.
He took his team the farthest of all the returning quarterbacks in 2019 as the Yellow Jackets reached the Region 3B championship game. He passed for 1,254 yards and 12 touchdowns, while rushing for 690 yards and five scores as a junior.
Ryan also excels on defense and as a return man. It was expected that he'd move to wide receiver this season and pro-style quarterback Tahj Smith would take over. But Smith transferred to Episcopal High School, a private school in Alexandria.
James Monroe first-year head coach George Coghill said he expects Ryan to play more relaxed since his future at Virginia is secured.
"That means a lot," Coghill said. "I thought last year he felt a little pressure when he hadn't received the offers we were anticipating him receiving. This year he's not worried about anything but having a successful season."
Spotsylvania welcomes junior Monte McMorris, a transfer from Massaponax that sat behind standout quarterback Luke Morley last season with the Panthers.
Courtland will start sophomore Liam Wojciechowski, with incumbent Raul Gil moving to wide receiver. Caroline has junior varsity call-up Brandon Franks.
Eastern View head coach Greg Hatfield is also breaking in a new quarterback.
Junior Caden Huseby will replace the graduated Till Butler, who helped lead the Cyclones to a share of a district title for the seventh straight year in 2019.
Hatfield said having a returning quarterback "is a great advantage" in a season like this as veteran players are more willing to forcibly communicate with their teammates and organize during the offseason.
Hatfield said he's still learning Huseby's tendencies.
"It's going to take a couple of games to figure out what he does well," Hatfield said. "It'll be interesting to see. I'm not trying to be evasive, but we've had 10 practices. We're going to learn a lot within this next week."
Taft Coghill Jr: 540/374-5526