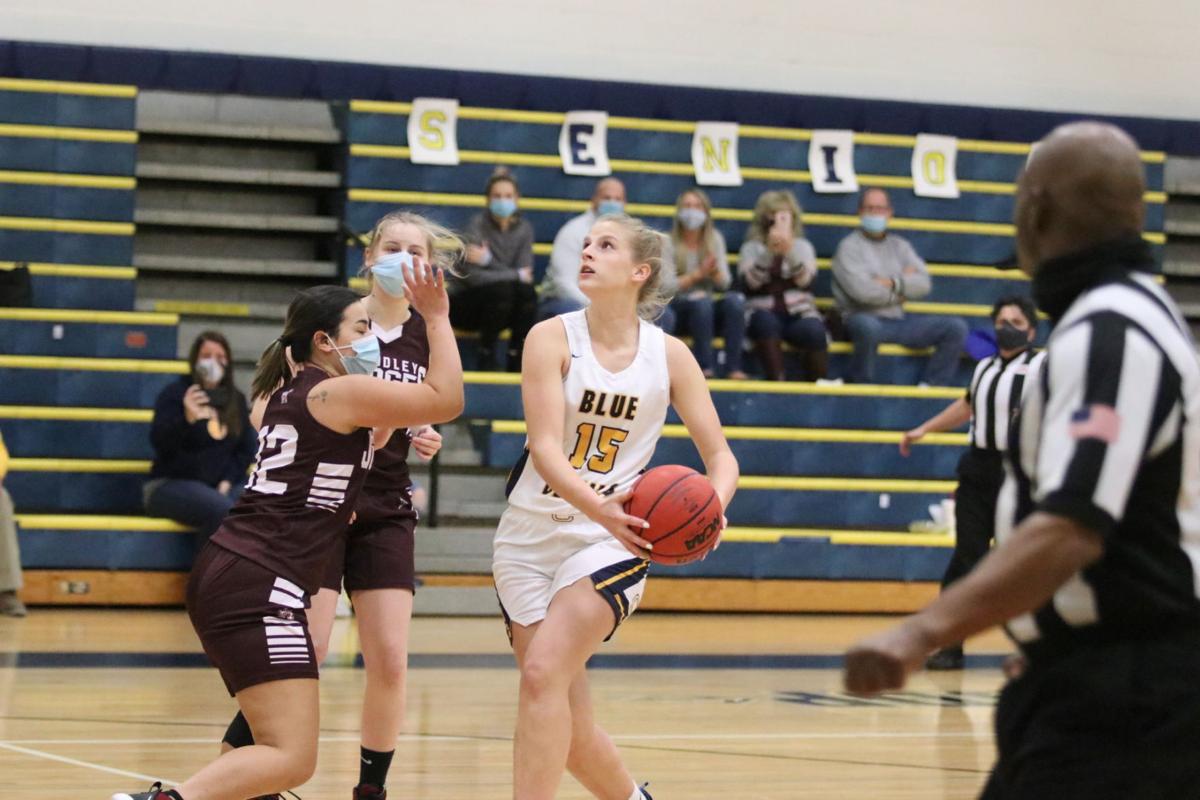 Despite losing a close back-and-forth battle against the John Handley Judges 42-41 Wednesday night, Culpeper head coach Tony Majors is pleased with the way his team responded.
The Blue Devils dropped their first game of the season by more than 20 points at Skyline on Dec. 28.
In Wednesday's Class 4 Northwestern District opener, they stayed in the contest all night.
"That first game we played was hard to watch," Majors said. "I feel like tonight we came out ready to play and ready to compete."
Autumn Fairfax scored the first points of the night nearly three minutes in. Both teams looked out of sync early on as they had a plethora of mishandled passes and turnovers.
Fairfax, a sophomore guard, led Culpeper with 12 points on the night.
Handley (1-0) jumped out to a 7-4 lead, but the Blue Devils ended the first period on a 6-0 run led by Ella Corbin, taking a 10-7 advantage into the second quarter.
Laura Hogan led the way for the Judges, pouring in a game-high 21 points. Hogan was dominant down low in the second frame, notching eight of Handley's 11 points.
Fairfax and Kaylee Kramer paced Culpeper offensively in the period, combining for nine of the team's 12 points as it took a 22-18 lead into intermission.
The Judges opened the second half on an 8-0 spurt to give them their first lead since early in the first quarter.
Handley's lead ballooned to 33-27 by the end of the third stanza.
The Blue Devils refused to go away though, rallying from a seven-point deficit to tie the score at 37-all thanks to a trey and a layup by Fairfax.
However, Tierney Finley's basket with just over a minute remaining put the Judges up 42-40, and they held on down the stretch.
"We missed a lot of easy layups tonight," Majors said. "And we didn't get a lot of the 50/50 balls we should have either, so that is something that we definitely need to clean up."
Majors said one of the hardest parts about this season has been just preparing for the next game. Culpeper was originally supposed to play William Monroe Wednesday, but saw it changed earlier in the week after Winchester Public Schools decided to allow Handley to participate in the Virginia High School League's winter sports season.
"It was nice just seeing the girls come out and play tonight though," Majors added. "It was a good game and it was nice to be able to play here at home. I really appreciate Handley for accepting this game and coming down to play as well."
| | | | | | | |
| --- | --- | --- | --- | --- | --- | --- |
| Handley  |      7 |    11 |    15 |      9 |    — |    42 |
| Culpeper    |    10 |    12 |      5 |    14 |    — |    41 |
Handley (1-0, 1-0): Taylor Cannon 2, Celyna Randall 9, Sasha Mathews 0, Tierney Finley 4, Zamia Roe 0, Khadijah Lang 2, Hannah Yerkie 2, Devlin Jett 2, Mia Kern 0, Laura Hogan 21. Totals: 15 11-19 42.
Culpeper (0-2, 0-1): Juliana Groves 3, Ella Corbin 10, Autumn Fairfax 12, Amber Fairfax 5, Kaylee Kramer 7, Sara Dunphy 2, Susie Ishmael 0, Brook House 2. Totals: 17 4-10 41.
3-pointers: Handley 1 (Randall). Culpeper 3 (Corbin, Au. Fairfax, Kramer).