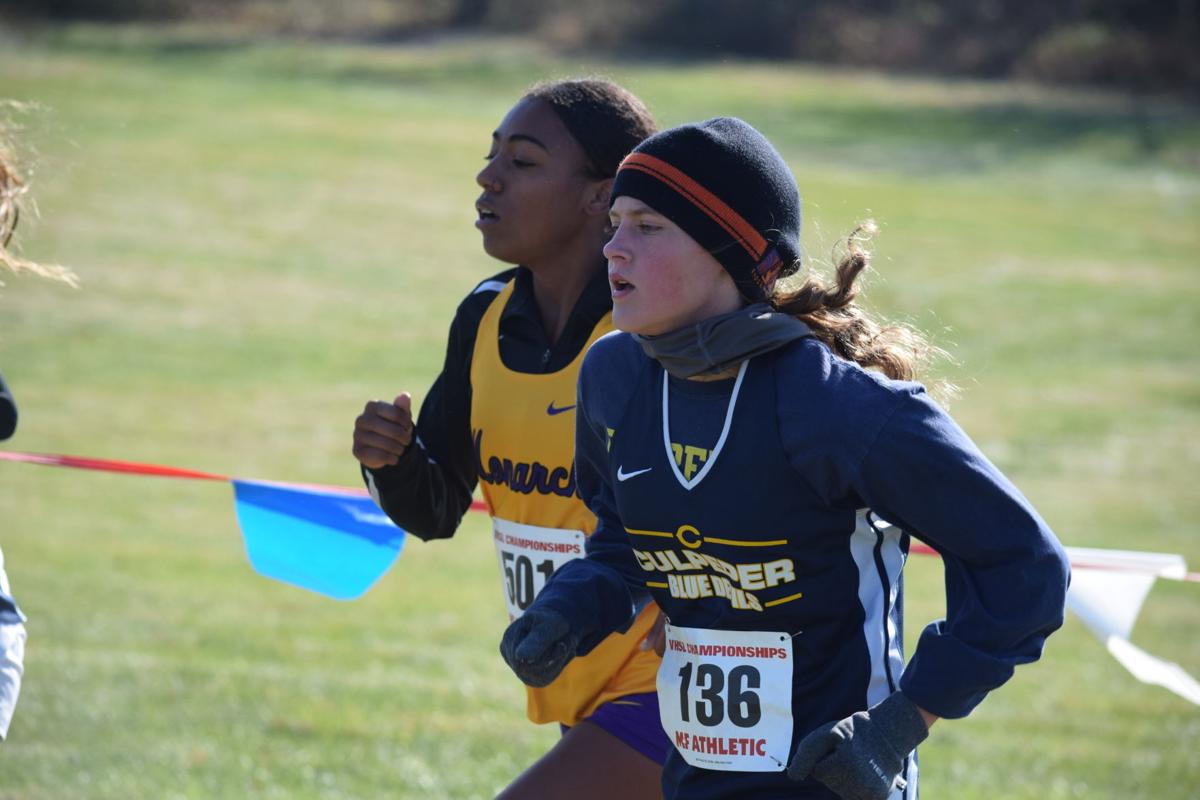 Mark Dennis knows the value of experience.
Now entering his seventh season as Culpeper's track coach, Dennis has fielded senior-laden teams littered with polished athletes on more than one occasion. One such example was last year, when the Blue Devils had 26 seniors on their roster.
That robust number has been more than cut in half this winter, as Culpeper only has 12 seniors at its disposal. But Dennis is betting on a group of talented young performers to make up for that lost experience.
"We were absolutely stacked [with seniors] last season," Dennis said. "I thought we'd have more than a dozen this year, but I really didn't know what to expect turnout-wise after COVID wiped out the spring season."
At the top of the list of returnees is sophomore Isabella Hardaway. A distance-running dynamo who is also one of the top cross-country runners in the state, she'll focus primarily on the 1000, 1600- and 3200-meter runs.
Hardaway already posted a first-place finish in the 1000 during the Blue Devils' season-opening meet with Skyline on Jan. 6.
"Bella is dominant," Dennis said. "That's really the only way to describe the way she attacks those events."
Hardaway will also run a leg for Culpeper's 4x800 relay team.
Kimberly Navarrete-Guerrero, a transfer from crosstown rival Eastern View, is a talented sprinter who Dennis said can compete in anything from the 55-meter dash and up.
"Kimberly is so versatile," Dennis said of the junior. "She's going to be big for us in several events."
Another junior, Sidnee Addo, will also add punch to the Blue Devils' sprinting corps. She won the 55 against Skyline.
Dennis added that newcomer Carley Layden, a freshman, will be looked to as a major player for Culpeper in the 55 hurdles.
On the boys side, senior football standouts Riley Harrison and Joseph Holland are both new to the sport and will focus on the field events—primarily the shot put. Holland placed first in the event against Skyline.
Dequan Thompson, who opted not to play for the Blue Devils' basketball team and focus solely on track instead, won the long jump against Skyline. Dennis said that the junior will participate in several events for Culpeper throughout the campaign.
"A handful of our upperclassmen are inexperienced overall because they're coming out for the first time," Dennis pointed out. "There's a lot of potential there, but in many ways they're like freshmen right now in terms of their level of seasoning."
Sophomore Christian Soderholm, who won the 1000 against Skyline, will occupy a distance role similar to Hardaway's for the Blue Devils' boys squad.
Dennis added that Culpeper has a handful of other athletes who figure to stand out this year.
On the girls team, Grace Damewood (long jump and triple jump), Taylor Daniels (55 hurdles, 300 and triple jump), Savanah Sprouse (500), Valentina Lemus (500), Libby Stedman (1600) and Teresa Breckley (shot put) were all highlighted by Dennis. Daniels, Lemus, Stedman and Breckley all placed first in their respective events against Skyline, while Damewood took the long jump.
For the boys, Jonah Woodward (55 hurdles), Sydney Aggrey (300), Cole Rozwadowski (500), Caleb Smith (1600) and Cameron Lacy (high jump and triple jump) and Tripp Beaver (high jump and triple jump) were the names Dennis underlined. Aggrey, Rozwadowski and Smith each won their respective events against Skyline.