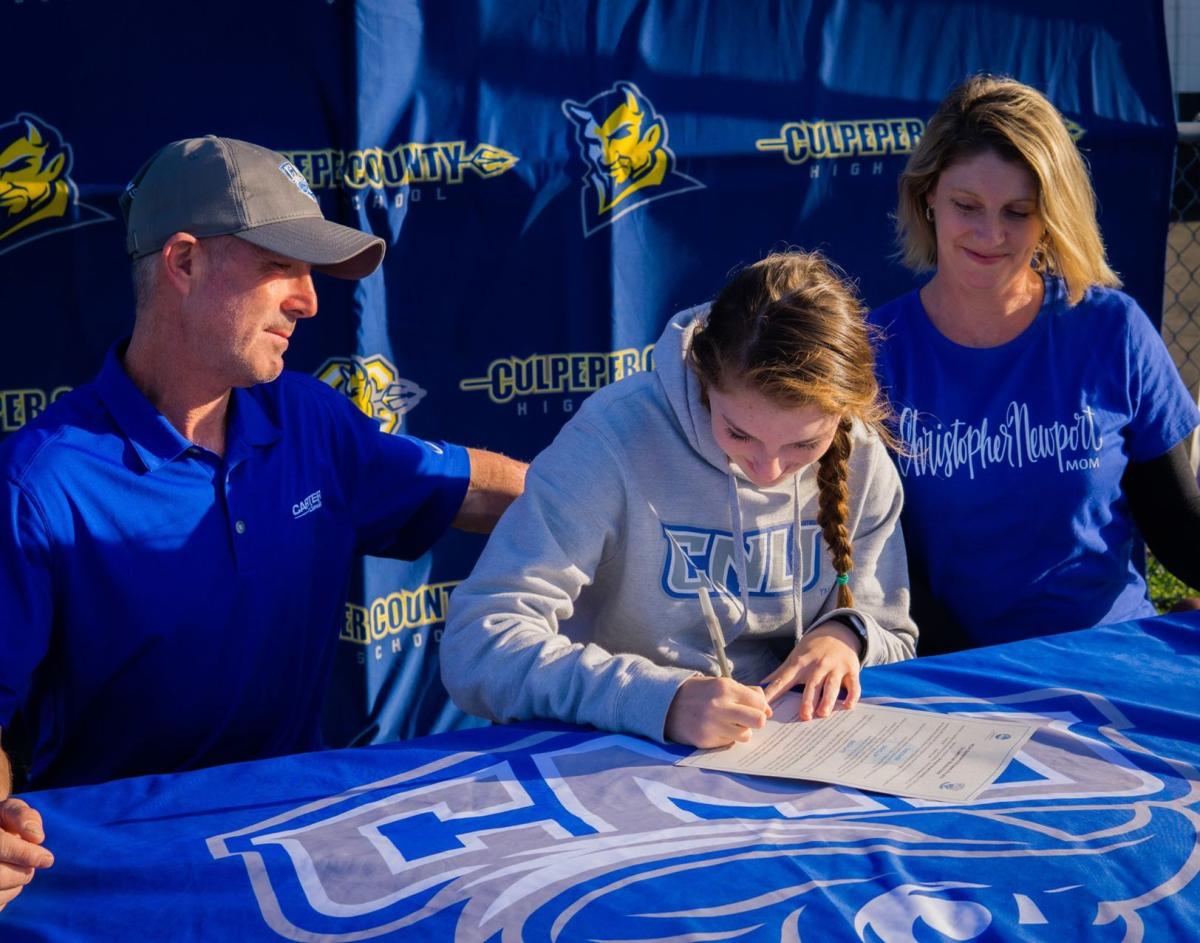 When Mark Dennis talks about Grace Damewood's identity as a student-athlete, he isn't afraid to use all the old clichés.
Hard work and determination pays off; a positive attitude will carry you a long way; they do everything we ask of them as coaches without giving it a second thought. Those, among other sayings, have been used (and overused) by taskmasters for as long as anyone can remember.
But Dennis, Culpeper High School's longtime track and field coach, applies those maxims when describing Damewood because her high school career has revolved around them.
"Grace is an example of how hard work and determination can get you to where you want to be," Dennis said. "The right mindset and drive can push you to places you never thought you could get, and she has all of those things."
Damewood's relentless approach to her craft has landed her the opportunity to continue her career at Christopher Newport University this fall.
"I can't wait to get there," Damewood said of CNU, which is located in Newport News. "There are endless opportunities there, both athletically and academically, so I'm thrilled to be going."
Damewood started off as a middle-distance runner during her freshman year, but her aforementioned work ethic and dedication turned her into a sprinter and a jumper for the Blue Devils. Her continued development in the latter of those two areas helped pave the way for her commitment to the Captains.
"Michael Hanks is CNU's jumps coach, and he has a very good reputation," said Damewood, who will focus primarily on the long jump and triple jump in college. "I'm excited to become one of his athletes."
"Hanks is amazing," Dennis remarked. "I know Grace will be in good hands with him."
Damewood's prowess was on full display during a meet held Wednesday at Broman Field, where Culpeper hosted Northwestern District rivals James Wood, Kettle Run, Liberty-Bealeton and William Monroe. She swept the long jump (16-3 1/4) and triple jump (33-7), as well as racing to victory in the 100-meter dash (12.93).
Additionally, at the Region 4C indoor championships in February, Damewood came in fourth in both the long jump (15-7) and triple jump (32-6).
"All of the work she's put in since her freshman year has really shown in her improvement this year," Dennis said. "She has been amazing."
Damewood said she owes a large part of her continued growth to Dennis.
"He's played a huge part in pushing me in all aspects to reach my full potential," she pointed out. "I'm forever grateful for the endless hours of coaching and support he's given me.
Damewood added that she plans to take the same approach she's used to improve while in high school and apply it to her development at the collegiate level.
"Being coachable and being able to receive criticism is key," she said. "Learning to compete and grow alongside other athletes has pushed me to succeed and not settle for anything less."