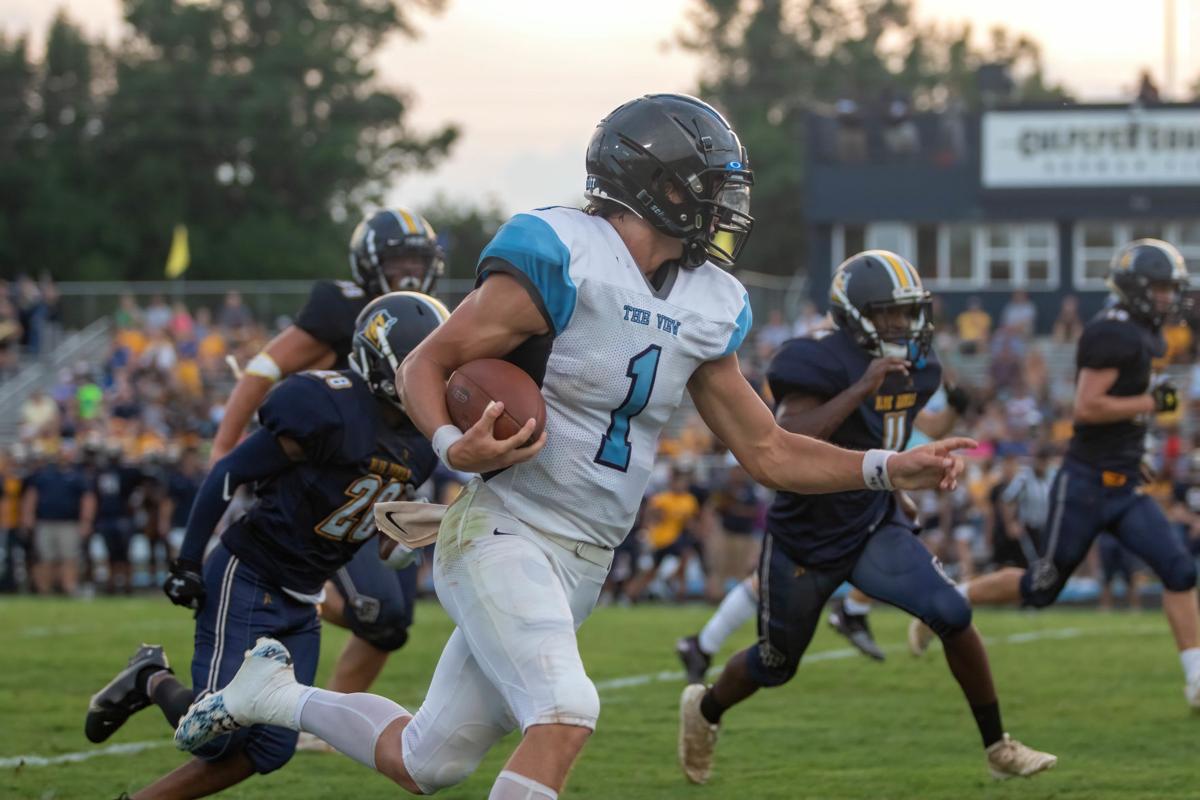 The Eastern View football team was halfway to Brooke Point High School for Friday night's scheduled game with the Black-Hawks when it got the news.
Brooke Point was postponing the nondistrict contest due to a COVID-19 outbreak within its program.
"We were headed down Route 3 and already in Fredericksburg when my phone rang," Cyclones head coach Brian Lowery said. "A couple minutes later, we were turning the bus around and heading back home with an unexpected bye."
That unexpected bye is the second one EVHS (2-0) has received in the past three weeks. Its Sept. 2 matchup with Liberty (Bealeton) was wiped out after the Eagles suffered—you guessed it—a coronavirus outbreak.
With 2/3 of their nondistrict slate now sacked, the Cyclones find themselves in a major scheduling pickle as it pertains to accumulating power points for the imminent Region 4B playoff push.
EVHS was a rare recipient of a Week 11 bye from the schedule-makers this season, so in order to make up either of its COVID-shuttered contests it would need Liberty or Brooke Point to also have the same bye week. Since having the final week of the regular season off is unusual, both the Eagles and the Black-Hawks have games that week.
Of course there are other options, both of which would require quite a bit of maneuvering.
Option A would be for the Cyclones to scour the state in search of another squad that's in practically the same exact situation as they are, then try and broker a Week 11 matchup with them. This could prove difficult, especially if the physical distance between the two schools is great.
Option B would entail scheduling makeup games with Liberty and/or Brooke Point during the week, likely on a Monday, and either leaving that Friday's scheduled contest as is or attempting to convince that opponent to move it to a Saturday. Regardless, EVHS would have to take the field three times in a span of roughly a week in this scenario.
Anything other than those aforementioned courses of action would involve the Cyclones having to ask other Battlefield District teams to rearrange their schedules, which is not only unlikely, but unwise in a world where games are going up in smoke quicker than the Dallas Cowboys' perennial Super Bowl hype.
"You schedule these nondistrict games, especially ones against bigger schools like Brooke Point, because it allows you to not only test yourself against good competition, but also get a boost in power points from playing up against a bigger school," Lowery said. "So when you lose the opportunity to not only get better, but to pick up those points, it's tough.
"I'm not sure what we're going to do just yet, but I'd really like to figure out a way to pick up some extra power points somewhere," he continued. "With Battlefield District play starting up next week, it leaves a very small margin for error in terms of making the playoffs. We're obviously undefeated now, but one loss could take us right out of the picture."
EVHS is scheduled to host district foe Chancellor (0-1) next Friday at Cyclone Stadium. The Chargers, who were forced to cancel their first two contests due to their own COVID-19 outbreak, finally opened their season on Friday, falling 42-20 to Spotsylvania County rival Riverbend in nondistrict action.