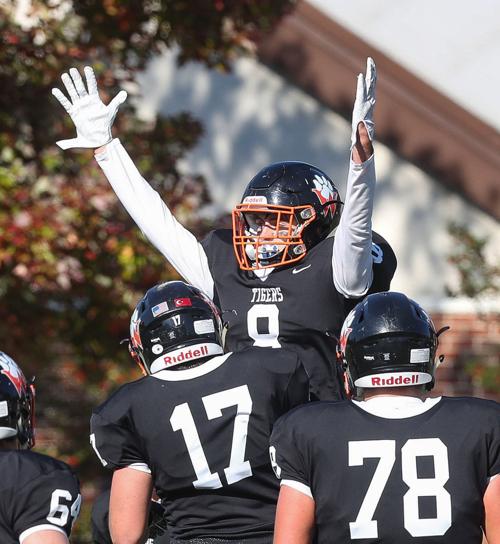 For months, football players and coaches at Woodberry Forest have followed school protocols in hopes of a potential return to the gridiron this fall.
The hard work was rewarded Friday, when the school announced a shortened fall season, which will start next Saturday in Roanoke with a showdown against defending VISAA Division II state champion North Cross.
Woodberry football coach Scott Braswell was thrilled to share the news with his team.
"I think our guys have done a great job of hanging in there through all the challenges and I am happy for them that we are getting to play," Braswell said.
Athletic director Matt Blundin spent the past month talking with other boarding schools throughout the state that share a similar approach to repopulation of its community, testing protocols and risk management to create as much of a "bubble" scenario as possible.
"He's been doing a lot of work communicating with schools and trying to put together a schedule," Braswell said. "We are going to try to have a competition every weekend up through Nov. 14. The key to our playing will be our handling of all the safety protocols and keeping our campus COVID free. We are scheduling week-to-week. If some schools are more comfortable with a scrimmage format, we are happy to do that."
The first steps came Friday, when the Tigers hosted Blue Ridge School for a scrimmage. Both teams had taken part in intra-squad scrimmages, but this was the first time both programs strapped on the helmets and shoulder pads against another team this year.
The two teams competed for more than two hours and the results were encouraging.
"I thought both teams did a good job," Braswell said. "I was pleased with our execution on offense and I thought our defensive line did a great job putting pressure on the Blue Ridge quarterback. The players on both teams were so excited to be back on the field playing against someone in a different colored jersey. We ended up scrimmaging much longer than we had expected, in large part because both teams just wanted to keep playing."
Braswell admits that his players learned a lot about themselves practicing during a pandemic. Through it all, he said the players remained in good spirits and were eager for a chance to play.
"I think the most difficult part of coaching this fall has been just not knowing if you will ever get to play someone else," Braswell said. "When we first started, we were doing social distancing at practice. I think you can imagine the challenge of teaching blocking and tackling from 10 feet apart. We have progressed past that now and play in masks for our work where social distancing is not possible."
Junior running back Donovan Baker is excited for the opportunity to play this fall.
"Throughout these unfortunate times, I always stayed optimistic," Baker said. "It's just the type of person I am. For things to finally fall into place makes me very appreciative for the people who made it happen. Many kids dream of practicing and I'm very grateful to have that luxury.
"I'm excited about is for my senior teammates. They have the opportunity to put it all on the line for one last time on a high school field, which makes me happier."
The Virginia Prep League elected not to play football this fall in hopes of returning to play at some point in early 2021. Braswell said they haven't ruled out playing football and have discussed the possibility of playing in the spring, but nothing has been finalized as of yet.
The Woodberry Forest coach is proud of his team for their patience and commitment to the program through these challenging times.
"I think our guys have done a great job of hanging in there through all the challenges and I am happy for them that we are getting to play," he said.
Get in the game with our Prep Sports Newsletter
Sent weekly directly to your inbox!