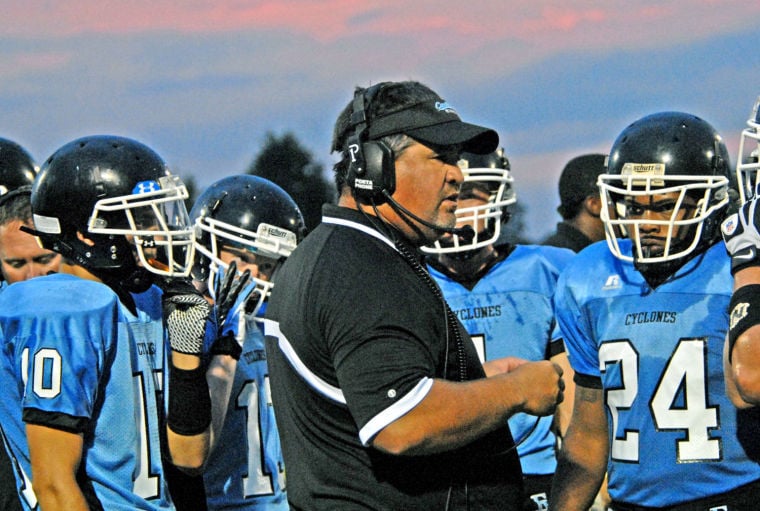 In an era where endorsement deals make professional athletes millionaires before they even step on the field, signing a big shoe deal has become part of every high school football player's dream.
In that sense, Eastern View head football coach Greg Hatfield is the envy of every one of his players right now.
On Monday, Hatfield signed a NIKE contract.
The Cyclones' head coach since Eastern View opened in 2008, Hatfield was selected to speak at the NIKE Coach of the Year Clinics, and will make his first appearance Friday at the 2014 Mid-Atlantic Clinic at the Westin Washington-Dulles Airport Hotel in Herndon.
"It's pretty neat," said Hatfield, who led Eastern View to its first two home regional playoff games in program history this fall. "It's an honor to get recognized and be able to speak, but it's even bigger for our program and our kids."
This weekend's clinic — one of 19 sponsored by NIKE nationwide — runs from Friday to Sunday, and will include major college coaches such as Todd Graham (Arizona State), Bret Bielema (Arkansas), Dana Holgerson (West Virginia), Rich Rodriguez (Arizona), Al Golden (Miami-Fla.) and Ruffin McNeill (Eastern Carolina).
New James Madison University coach Everett Withers and members of his staff will also be on hand, as will head coach Scott Abell (Washington and Lee) and William & Mary defensive backs coach Tom Clark.
"These types of clinics really open a lot of doors for our players," Hatfield said. "They allow me to cultivate relationships with these big time college coaches and promote more Eastern View players."
Eastern View finished last season a program-best 10-2, including a 4A North regional win over E.C. Glass (35-32) and a 49-7 loss to Woodgrove.
Hatfield is 41-23 in six seasons at EVHS, including four regional playoff games — highlighted by a road upset of unbeaten Powhatan and an appearance in the 2010 Region I, Division 4 championship game.
The Cyclones' skipper also has plenty of clinic experience to fall back on, as he has traveled to New Jersey and North Carolina the last couple of years to speak at the Glazier Clinics.
Hatfield will take the podium at 3 p.m. Friday to discuss downhill running out of spread offensive sets.
Today is college football's national signing day, and the Culpeper area is going to be busy place. Check out Thursday's Star-Exponent to find out where Culpeper County seniors Billy Hogan and Marcellus Greene and a host of other Blue Devils and Cyclones are going to spend their college careers.
Here's look at some local recruits, who have already made their commitments known:
P.J. White, DB, Blue Ridge School (formerly EVHS)  » Dodge City Comm. College (Kansas)
D.J. Helkowski, P, Fauquier  » Richmond
Greer Martini, LB, Woodberry Forest  » Notre Dame
Andrew Shofner, OL, Woodberry Forest  » Princeton
Christian Asher, ATH, Woodberry Forest  » Charlotte
Steven Moss, OL, Chancellor  » Virginia
Vincent Mihota, DE, Massaponax  » Virginia Tech
Jarmal Bevels, WR, James Monroe  » Richmond
Ryan Landree, OL/DL, Albemarle  » Old Dominion