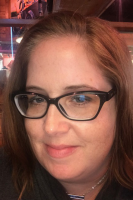 Allison Brophy Champion
Reporter
Bio

A news reporter in Culpeper since 2000, I got my start in the business as a youngster delivering papers after school for the Elizabeth Daily Journal in urban New Jersey.
The multi-hour business networking social lakeside at vineyard featured an appropriate theme of "reconnecting" following more than a year of separation brought on by a pandemic. 
ICU nurse with 39 years at Culpeper hospital, Beverly Wharton recalls dark, early days of COVID pandemic.
Christina Wormley works the frontlines of the pandemic in the interventional radiology department at Novant Health UVA Health System Culpeper Medical Center.
Jolene Vass works in Critical Care Unit, is single mom of three working toward bachelor's degree.
Loved ones of the late Helen Quarles gathered outside state police headquarters in Culpeper Wednesday to protest her March 30 death in Route 3 accident.
More than 30 people gave public comment Tuesday night on the controversial proposal for a 1,700-acre, sun-harnessing facility near Raccoon Ford in the Stevensburg District.
A group of around 15 relatives of Helen Quarles gathered outside the Culpeper Division Office of Virginia State Police Wednesday morning to pr…
Strata, in recent weeks, doubled the siting agreement amount it would have paid the county – from $1 to $2 million – once electricity was generated from the project near Raccoon Ford.
View all