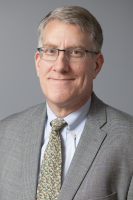 Clint Schemmer
Bio

Clint Schemmer, a journalist since 1980, has worked at papers in California, North Carolina and Virginia. He's been a bureau chief, editorial-page editor, copy desk chief and local news editor. Now a staff writer at the Culpeper Star-Exponent.
As the COVID-19 pandemic's economic fallout stresses Americans' pocketbooks, the Piedmont Environmental Council has delivered some good news t…
Everyone gave it their best shot, but Mother Nature just wouldn't cooperate.
Last week's Arsenal of Democracy Flyover brought the awesome sights, sounds and smells of World War II aviation to the Washington area, puttin…
Today's low cloud ceilings from Culpeper County to Washington, D.C., have forced the Arsenal of Democracy Flyover to cancel Saturday's aerial …
As part of lawmakers' effort to avert a U.S. government shutdown, Rep. Abigail Spanberger has voted with a bipartisan majority of House member…
Federal relief money from a second round of coronavirus food assistance is newly available to Culpeper-area farmers and growers.
Spend two minutes aloft in a T-6 "Texan," and you'll understand why pilots fall in love with flight.
If you notice unusual aircraft in the skies over Culpeper or Manassas each day this week, fret not. History buffs from across the country are …
Fall is just around the corner, and so is the advent of flu season. So now's the time to get vaccinated against the winter scourge.
President Donald Trump has endorsed state Del. Nick Freitas, R-Culpeper, in his bid to unseat U.S. Rep. Abigail Spanberger. The president anno…
View all